HARRISBURG – Senator Ryan P. Aument (R-36) was sworn in today to begin his second term serving northern Lancaster County residents in the Pennsylvania Senate. The Senate of Pennsylvania is now fully constituted and is ready to conduct business in the 2019-2020 Legislative Session.
"I am extremely grateful that the citizens of the 36th Senatorial District have once again placed their trust in me, and I look forward to engaging in an ongoing dialogue with residents as we continue working toward our collective priorities," Aument said. "While we have accomplished much in the last four years by way of improving the state's job climate, reforming the public pension system, and advancing various 'good government' measures, there is still more to be done. As I have for the last four years, I will continue to work with my colleagues in the Senate to arrive at workable policy solutions that are equitable, sensible, and beneficial to my constituents."
"My hope is that the Senate can focus on issues that help to create increased opportunities for all members of our society, such as addressing student debt, creating high-paying and attainable jobs, reforming our education system, combatting the opioid crisis, and bolstering our state's agriculture industry," Aument said. "State government must focus its efforts on enacting policies that allow all Pennsylvanians to experience earned success and upward economic mobility, both of which are central to the American dream. These tenets are predicated on the availability of a high-quality education system and a competitive business climate. I hope to be able to lead Pennsylvania in this direction."
Prior to his re-election to the Senate of Pennsylvania in November, Senator Aument served two terms in the Pennsylvania House of Representatives, followed by a single four year term in the State Senate from 2014 to 2018.
During his first Senate term, he supported various bills to improve government transparency, streamline the state budget process, encourage fiscal responsibility in government spending, provide protections for crime victims and their families, reform the state pension system, and promote school safety. He also authored a dozen bills that were ultimately signed into law, including bills to improve government accountability, increase efficiency and collaboration in school administrations, improved Veteran representation on state commissions and preserved funding for Veteran monuments, and updated certification requirements to attract more qualified teachers at Career & Technical schools across the state.
Senator Aument's district office is open Monday through Friday from 9:00am-4:30pm or by appointment and can be reached by phone at (717) 627-0036. The office is located at 301 E. Main St, Lititz, PA 17543. The Harrisburg office can be reached by phone at (717) 787-4420 or by mail at Senate Box 203036, Harrisburg, PA 17120.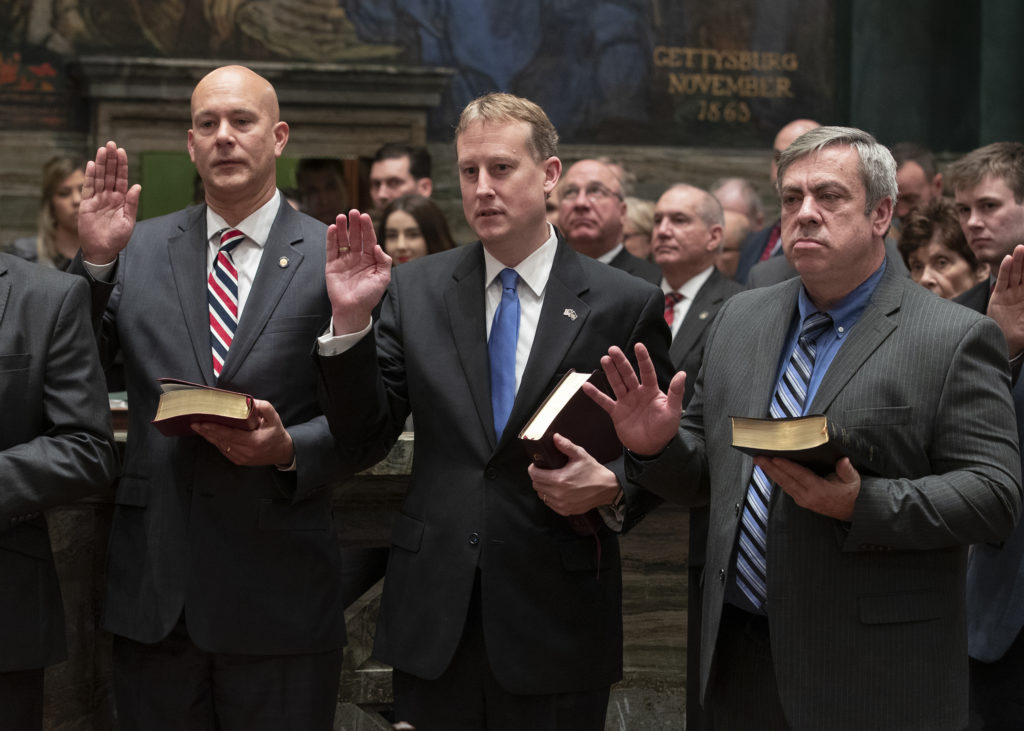 Photos, video, and additional information regarding today's swearing-in ceremony are available online at www.senatoraument.com.
CONTACT: Ryan Boop (717) 787-4420