HARRISBURG – Senator Ryan P. Aument (R-36) introduced two bills today to ease the strain of the student loan debt crisis on current students and graduates, while emphasizing the importance of personal responsibility and protecting taxpayers.
"The student loan debt crisis cannot be ignored," Aument said. "Addressing it in a fiscally responsible manner that serves the needs of students, taxpayers, and institutions of higher education alike is absolutely critical if we want to help the next generation experience earned success and upward economic mobility in Pennsylvania."
"As I've said before, higher education is bankrupting an entire generation, serving as a barrier, rather than a pathway to economic opportunity for far too many. The skyrocketing cost of college is leading younger generations to take on 300 percent more student loan debt than their parents' generation," Aument said. "If we fail to address this crisis, it will have ripple effects on every aspect of our economy. We need to find commonsense solutions that will help Pennsylvanians repay and meet their student loan obligations, under reasonable terms, without freeing them entirely from their personal responsibility to do so."
Senate Bill 1042 would support Pennsylvanians who graduated with significant student loan debt by creating the Student Loan Retirement Agreement Program, which would allow borrowers to repay onerous student loans through the use of Income Share Agreements (ISAs).
Under an ISA, a participant would agree to pay a fixed share of their income for a set period of time in order to pay off their student loan debt. Applicants must have completed their degree and begun responsibly meeting their current student loan obligations, among other requirements, in order to be eligible for the program.
Initial funding for the program would come from a revolving line of credit using funds already managed by the Pennsylvania Treasurer. The program would not be funded by state tax revenues or new debt that must be repaid in the state budget. The program would be administered by the Pennsylvania Higher Education Assistance Agency (PHEAA).
"Many graduates not only face a large debt load, but also high interest rates on the commercial market that make it difficult to pay down the balance of their loans," Aument said. "Creating this program will give borrowers a more manageable repayment plan that follows the growth of their careers and their earning potential."
The second bill in the package, Senate Bill 1043, would apply a similar concept to current students by establishing the Higher Education Income Share Financing Pilot Program, also administered by PHEAA. This program would allow current students to enter into a contract with their college or university where they agree to pay a fixed percentage or "share" of their future income for a set period of time in exchange for having all or a portion of the cost of their education paid for.
"My goal is to address the student loan debt crisis using a multi-faceted approach that cuts costs on the frontend while easing the repayment process for graduates on the backend. To that end, the program proposed in Senate Bill 1043 may have the effect of driving down the overall cost of education by aligning the interests of the schools to the needs of students, reducing the overall debt burden for students."
Both bills have been introduced and are awaiting referral to committee for consideration.
More information on both bills, the student loan debt crisis, income share agreements, and frequently asked questions can be found on Senator Aument's website at https://www.senatoraument.com/student-loan-debt/.
Additionally, Senator Aument has been working to address the rising cost of college through his participation on the Higher Education Funding Commission, established in 2019 by legislation that he sponsored along with Senator Pat Browne. Members of the Commission will consider the state's role in funding higher education through topics such as affordability, administration and operations, graduation and retention rates, student financial aid, job placement after graduation, entry level wages, student loan debt, and the overall goal of higher education.
Through his role on the Commission, Aument hopes to look at performance-based metrics for higher education funding decisions as a way to hold institutions accountable for results; for example, prioritizing funding for institutions that graduate students with degrees that are in high demand in Pennsylvania. He points out that this may entail placing more emphasis on alternative pathways such as tech schools, certificate programs, trades, and apprenticeships.
More information on the Higher Education Funding Commission, including video footage of hearings, can be found on the Commission's website at https://highereducationfundingcommission.pasenategop.com/.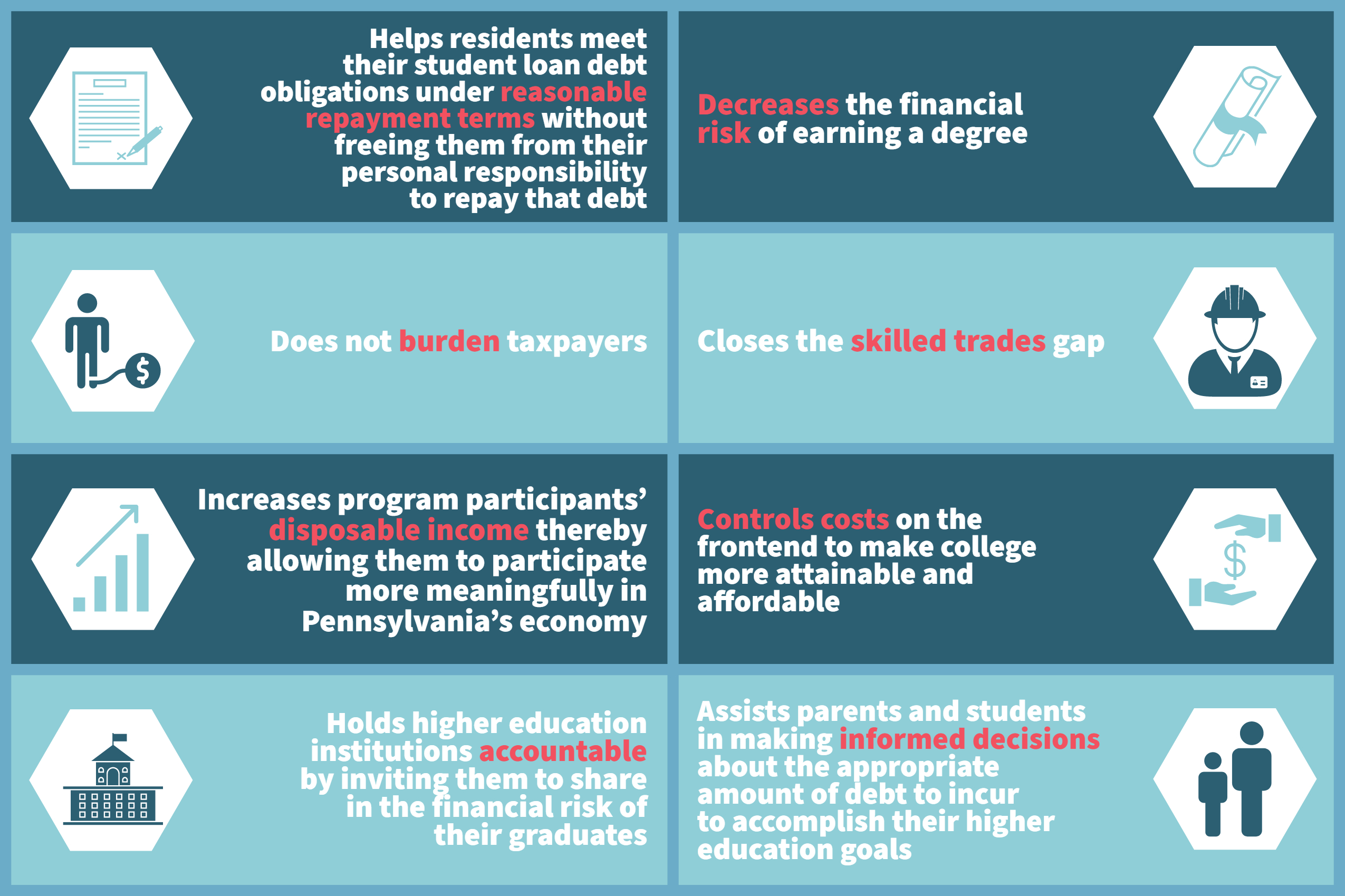 Senator Aument's policy goals as he works with his colleagues to address the student loan debt crisis.
CONTACT: Ryan Boop (717) 787-4420