(HARRISBURG) – The Pennsylvania Senate today continued its work to improve police training and reduce deadly force incidents, approving a second round of reform legislation, according to Senator Ryan Aument (R-36).
"The swift, collaborative, and unanimous actions taken by the General Assembly these past two weeks are proof that the legislative process is effective when elected officials remember our duty to act as a conduit for the voices of Pennsylvanians," said Aument. "When we listen to one another, seek understanding, and work together, we can achieve shared goals like improving relations between law enforcement and the community, training compassionate and effective police officers, and building a criminal justice system that adequately serves the needs of all citizens."
The Senate unanimously approved the following bills:
House Bill 1841 would require a thorough background investigation on an applicant for employment as a law enforcement officer, including a review of the applicant's employment information and separation records from prior law enforcement employment before the applicant may be hired. It also creates an electronic database of law enforcement officers who have demonstrated documented patterns of excessive use of force or other misconduct so that hiring decisions can be made with access to more complete information regarding the prior employment of an applicant.
House Bill 1910 would require the Municipal Police Officers' Education and Training Commission (MPOETC) to develop in-service training that includes annual instruction on the use of force and de-escalation techniques, as well as instruction in implicit bias and community and cultural awareness. It was also amended to require MPOETC to train police in trauma-informed care, specifically PTSD, and require officers get evaluated by a licensed mental health professional for PTSD under several conditions, most notably within 30 days of the incident.
House Bill 256 makes it clear that any sexual contact between law enforcement and someone in their custody is illegal — there is never consent for sex.
House Bill 1841 and House Bill 1910 will be sent to the Governor's Office for enactment. House Bill 256 returns to the House of Representatives for consideration.
Last week, the Senate also approved Senate Bill 459, which provides law enforcement agencies with record keeping and reporting requirements regarding the use of force and deadly force by law enforcement officers. It also requires a statewide report to be compiled annually on use-of-force incidents.
The chamber also approved Senate Bill 1205, which prohibits the use of chokeholds except in situations when the use of deadly force is permitted. A chokehold is defined as "a physical maneuver that restricts an individual's ability to breathe for the purposes of incapacitation."
The bill also requires law enforcement agencies to adopt a use of force policy and to train officers on procedures allowed under the policy. The MPOETC will be required to certify the adoption of the use of force policies and to report to the Pennsylvania State Police which departments have and have not adopted these policies.
The legislative action followed two days of public hearings held earlier this month on ensuring accountability and equality in law enforcement and the criminal justice system.
In a recent op-ed entitled The Time for Police Reform is Now, Senator Aument said:
"Pursuing legislative reforms is only one piece of the puzzle. The social issues, racism, and hatred that lie beneath the surface are larger pieces that cannot simply be addressed through changing the law. Compassion, understanding, and unity cannot be legislated. To address these issues, we need to look within and be willing to hear opinions and feelings from those who do not share our own.
"When our fellow Americans repeatedly express their fear, frustration, and concerns with the current state of police / community relations, we must listen with compassion and empathy. We must recognize that while our own past experiences with law enforcement may have been positive, this may not be the case for all of our fellow citizens.
"As a State Senator, I have spent time riding along with local law enforcement throughout northern Lancaster County, and I am extremely proud of the work they do honorably and selflessly serving our communities. However, I think we need to be open to the reality that the good relationship we have with our police departments in our own communities may not be shared by every resident or community throughout the state and country. Therefore, we must be open to the suggestions for improving those relationships.
"And so, it is past time we come to the table to engage in a civil, respectful, and productive discussion on how we can address these challenging issues confronting our criminal justice system, train compassionate and effective police officers, and build trust and accountability within our communities.
"This is a difficult but necessary endeavor. Our success depends on our ability to listen, seek understanding, and work together. Far more unites us than divides us. And the stakes have never been higher."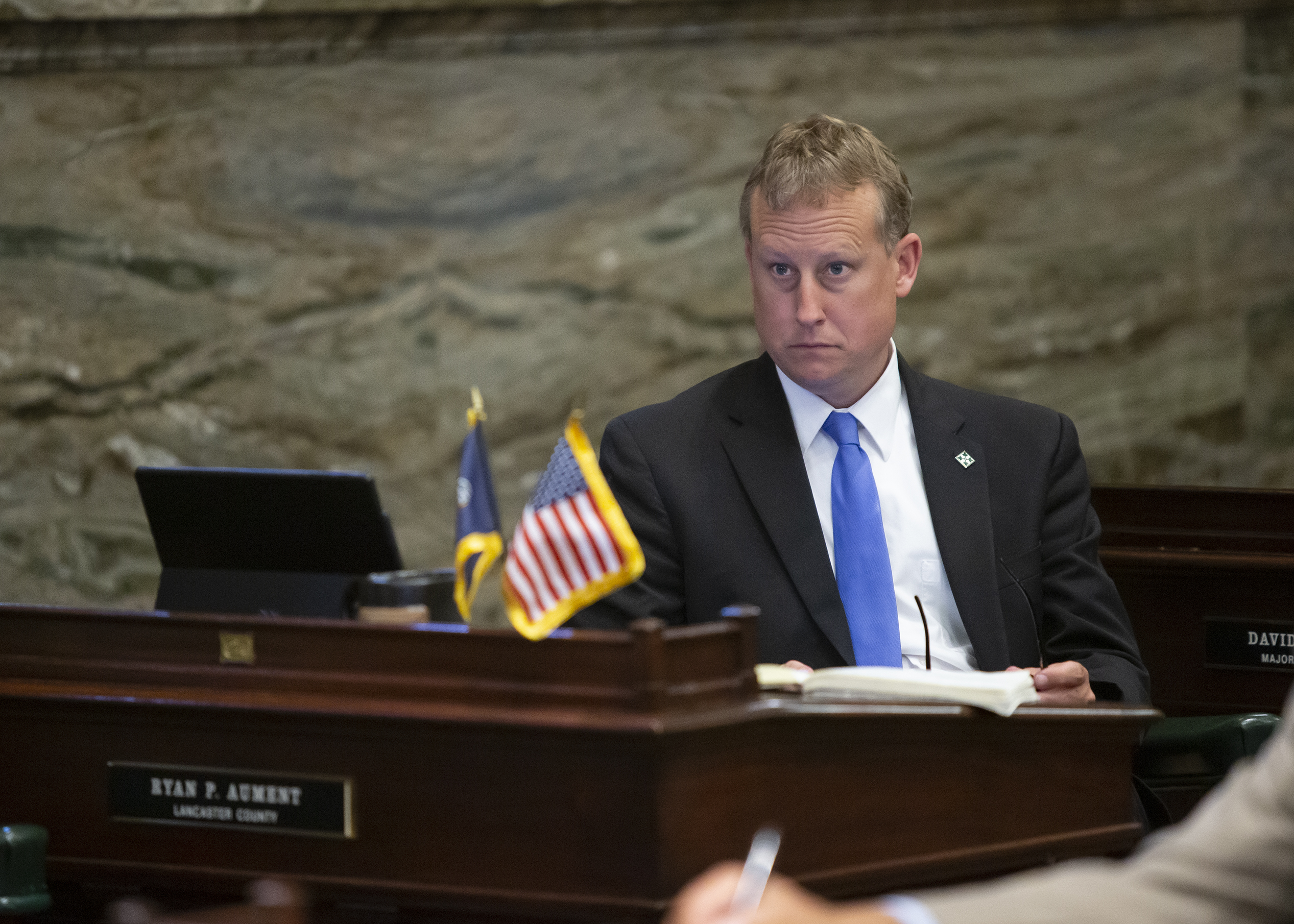 Senator Aument listens to testimony during a recent joint Senate hearing on accountability and equality in the criminal justice system.
CONTACT: Ryan Boop (717) 787-4420