(HARRISBURG) – Senator Ryan P. Aument (R-36) recently reintroduced two bills to ease the strain of the student loan debt crisis on current students and graduates, while emphasizing the importance of personal responsibility and protecting taxpayers.
"If we are to restore Pennsylvania's economy, it is crucial that we seek to attract the next generation of college graduates to stay in our state after earning their degree to help grow our tax base and stimulate local economies," said Aument. "As such, we cannot ignore the student loan debt crisis. Addressing it in a fiscally responsible manner that serves the needs of students and taxpayers alike is absolutely critical if we want to help the next generation experience earned success and upward economic mobility in Pennsylvania."
According to the cosponsor memo for the bills, college tuition has increased by over 3,000 percent since 1969, far outpacing the increase in the consumer price index. Yet, studies show that today's real average wage (that is, the wage after accounting for inflation) has about the same purchasing power it did 40 years ago. This has resulted in younger generations taking on 300 percent more student loan debt than their parent's generation. While many argue that students should forgo post-secondary education altogether due to the astronomical cost, the reality of our current job market is that over 65 percent of job openings through 2020 required a college degree.
"If we fail to address this crisis, it will have ripple effects on every aspect of our economy," said Aument. "We need to find commonsense solutions that will help Pennsylvanians repay and meet their student loan obligations, under reasonable terms, without freeing them entirely from their personal responsibility to do so."
Senate Bill 143 would support Pennsylvanians who graduated with significant student loan debt by creating the Student Loan Retirement Agreement Program, which would allow borrowers to repay onerous student loans through the use of Income Share Agreements (ISAs).
Under an ISA, a participant would agree to pay a fixed share or percentage of their income for a set period of time in order to pay off their student loan debt. Applicants must have completed their degree and begun responsibly meeting their current student loan obligations, among other requirements, in order to be eligible for the program.
Initial funding for the program would come from a revolving line of credit using funds already managed by the Pennsylvania Treasurer. The program would not be funded by state tax revenues or new debt that must be repaid in the state budget. In other words, taxpayers will not be on the hook to repay a debt that is not theirs.
The second bill in the package, Senate Bill 144, would authorize a study of the desirability and feasibility of using ISAs for current students attending a post-secondary institution as a way to finance their education. The Higher Education Income Share Financing Pilot Program established by the bill would allow current students to enter into a contract with their college or university where they agree to pay a fixed percentage or "share" of their future income for a set period of time in exchange for having all or a portion of the cost of their education paid for.
"My goal is to address the student loan debt crisis using a multi-faceted approach that cuts costs on the frontend while easing the repayment process for graduates on the backend. To that end, the program proposed in Senate Bill 144 may have the effect of driving down the overall cost of education by aligning the interests of the schools to the needs of students, reducing the overall debt burden for students."
The programs created by both bills would be administered by the Pennsylvania Higher Education Assistance Agency (PHEAA). Both bills have been reintroduced and are awaiting referral to committee for consideration.
More information on both bills, the student loan debt crisis, income share agreements, and frequently asked questions can be found on Senator Aument's website at https://www.senatoraument.com/student-loan-debt/.
Education reform is just one piece of Senator Aument's core legislative priorities for 2021, which include: (1) reopening, restoring, and rebuilding Pennsylvania's economy, (2) implementing key government reform measures to rein in the governor's powers during emergency disaster declarations, reform our election process, and limit government spending, (3) distributing the COVID-19 vaccine effectively and efficiently to all Pennsylvanians who want it, and (4) expanding educational opportunities for Pennsylvania students and families.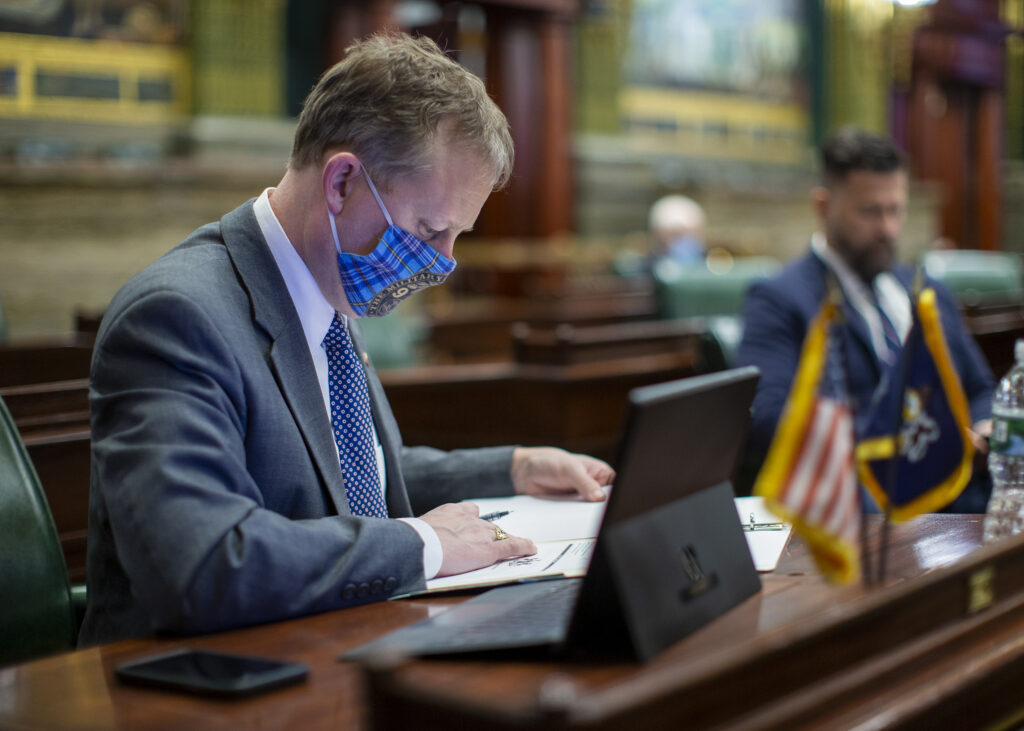 Senator Ryan P. Aument (R-36) on the Senate floor earlier this year.
VIDEO: To watch a video where Senator Aument explains how the income share agreements in Senate Bill 143 work, click here.
CONTACT: Ryan Boop (717) 787-4420