To combat food insecurity in Pennsylvania, charitable donations will be accepted at Aument's district office in Lititz through the end of September
(HARRISBURG) – The nation's largest charitable food organization, Feeding America, recognizes each September as Hunger Action Month in communities across the country. Pennsylvania's chapter of the organization also strives to bring attention to the cause of fighting hunger during this month right here in the Commonwealth.
According to Feeding Pennsylvania, nearly 2 million Pennsylvanians – or one in nine – are struggling with hunger; and of that population, 500,000 are children. Making matters more difficult, the charitable food network across the Commonwealth has seen an unprecedented rise in need due to the COVID-19 pandemic coupled with the economic downturn and historic inflation now affecting every Pennsylvanian.
Hunger touches all corners of the Commonwealth and exists in every community, whether we see it or not. Our local food banks, which serve all 67 counties by distributing more than 164 million pounds of food, remain in constant need of our help.
At the state Capitol for the last 12 years, each spring through the fall, a 1,000-square-foot Capitol Hunger Garden has been producing hundreds of pounds of fresh produce that is donated to Harrisburg's Downtown Daily Bread. Those donations are used in the organization's kitchen to provide healthy meals to vulnerable residents in the Harrisburg area. Last year, 849 pounds of produce was harvested from the garden, and we're hoping for a similar bounty by the time the growing season ends this year.
But much more can be done. By recognizing the month of September as Hunger Action Month, we're highlighting the need for citizens and businesses to donate both time and resources to assist food banks in their mission to ensure no family suffers from food insecurity.
I'm asking for everyone who is able to donate what non-perishable items they can to their local food banks. Lancaster County residents can find a food bank near them here.
Additionally, my legislative district office located at 301 E. Main Street in Lititz is collecting donations from anyone who wishes to give. Those collections will then be given to local food banks in our communities at the end of the month, with the donation period running now through Sept. 30.
Times are tough for Pennsylvanians, and between the lingering impact of the pandemic and the devastating effects of inflation, it's not getting easier – particularly as we approach the winter months. This reinforces the need to continue to support charitable food organizations who are best equipped to address food insecurity and hunger at the local level.
I am thankful for those who have supported and continue to support efforts to eliminate hunger by donating food, money, and volunteer work, and I encourage everyone to do what they can to help families in need.
Learn more about Feeding Pennsylvania and their mission at https://www.feedingpa.org/.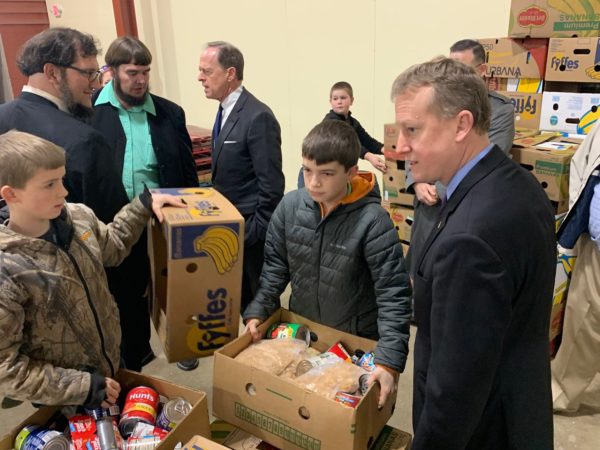 Sen. Ryan Aument (R-36) tours Blessings of Hope, a nonprofit food dissemination center in Leola, PA, in February 2020 with U.S. Sen. Pat Toomey (R).
Hunger Action Month Food Drive Flyer (PDF)
CONTACT: Stephanie Applegate