Thank you for subscribing to my E-newsletter. I am honored to serve the 36th Senatorial District and look forward to working with you toward building a stronger Pennsylvania. This E-newsletter serves to keep you updated on what is happening throughout  Lancaster County and what I am doing as your State Senator in Harrisburg – I hope that you find it helpful! Should you have any questions, comments, or concerns, please DO NOT reply to this email; instead, please feel free to contact me here.

In this Update:
Senate Approves Bipartisan Bill to Strengthen Teacher First Amendment Rights
Your Feedback Will Shape My 2023 Legislative Priorities
Senate Votes to Limit Excessive Power of Governor
Senate Acts to Help Farmers Meet Rising Demand for Home Delivery
Measure to Boost Volunteer Fire Company Membership Approved
Welcoming Three Residents to the 100th Birthday Club
PennDOT Job Openings Posted for College Students
Veterans: Now is a Good Time to Review and Update Benefits
Blood Donation is Easy and Safe
---
Senate Approves Bipartisan Bill to Strengthen Teacher First Amendment Rights

Following the swearing in of the governor and lieutenant governor on Tuesday, the Senate began the new legislative session in earnest Wednesday by passing several pieces of legislation, including Senate Bill 84.
The measure would eliminate the prohibition on teachers from wearing any dress, mark, emblem or insignia reflecting their faith or denomination.
It would align Pennsylvania with every other state in the nation in preserving and protecting First Amendment rights for educators. The measure was sent to the House of Representatives for consideration.
Your Feedback Will Shape My 2023 Legislative Priorities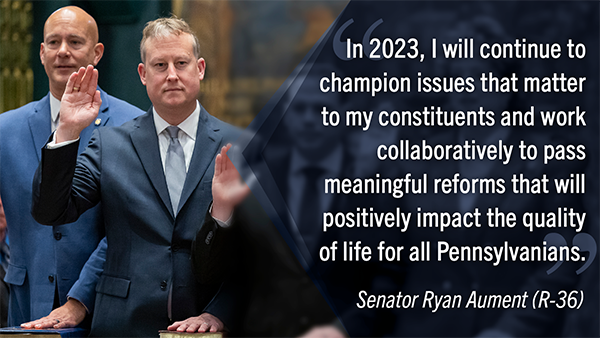 In the new legislative session, I look forward to continuing to champion issues that matter to my constituents and to work collaboratively with my colleagues to pass meaningful reforms that will positively impact the quality of life for all Pennsylvanians. Based on conversations I've already had with district residents, those priorities include:
Reducing the tax burden,
Pursuing energy independence and increasing electric grid reliability and resiliency,
Ensuring all students have access to a quality education through lifeline scholarships,
Boosting economic competitiveness and advocating for the acceleration of the Corporate Net Income Tax reduction we passed last year, and
Reforming the process for obtaining government permits.
If you wish to share a concern or your perspective on a state-related matter, I encourage you to click here to fill out a short online form. Of course, you're always welcome to schedule an appointment here if you prefer to connect in person. Your open feedback helps me most effectively do the important job of representing northern Lancaster County residents, so I appreciate all communication.
With your input, I will focus on policies where we can agree in Harrisburg, work across the aisle, and seek consensus to produce real results for the people of Pennsylvania.
Senate Votes to Limit Excessive Power of Governor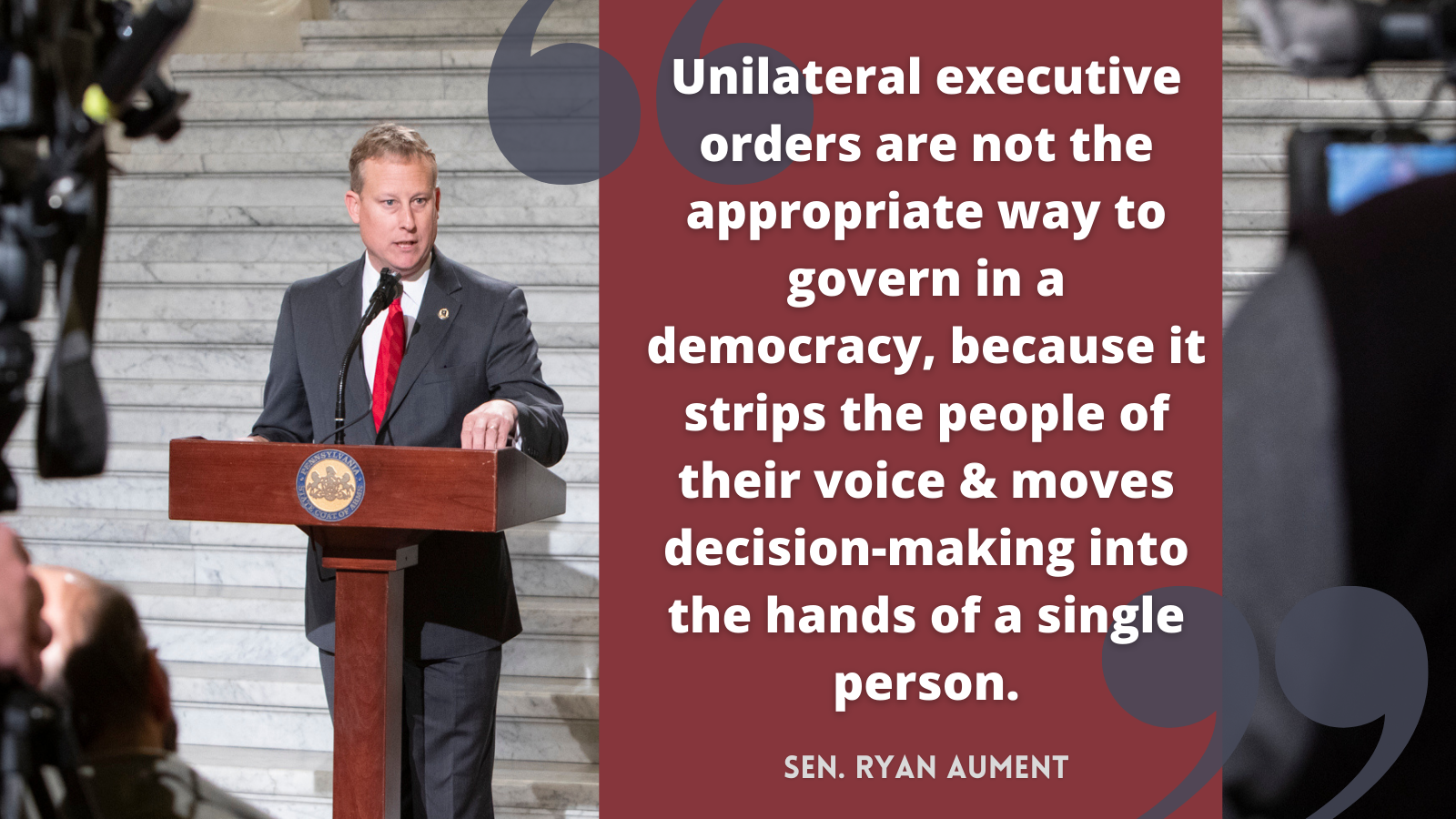 Legislation I sponsored to restore the balance of power in state government passed the Senate last week.
My proposal would amend our constitution to ensure that Pennsylvanians have a say in how their government operates by allowing their representatives in the General Assembly to overturn a regulation that conflicts with the will of the people. It would prevent the governor from vetoing the disapproval of a regulation as voted by the General Assembly.
For example, Gov. Tom Wolf's unilateral effort to force Pennsylvania to join the multi-state Regional Greenhouse Gas Initiative (RGGI) is a clear violation of the checks and balances provided by the Pennsylvania Constitution.
In response to the administration's attempt to usurp this authority to approve or disapprove any tax increase on Pennsylvania families and employers, both the Senate and the House of Representatives passed a resolution disapproving Pennsylvania's participation in RGGI. Gov. Wolf vetoed this resolution and continued to push this policy forward.
Neither the executive branch nor any unelected bureaucrat should have the unchecked authority to issue open-ended orders or regulations. Everyone loses when the people who swear to support, obey, and defend the Constitution disregard that oath and instead make unilateral decisions.
Constitutional amendments must pass both chambers of the General Assembly in two consecutive legislative sessions and then be approved by Pennsylvania voters in a ballot referendum. This measure was approved last session by the Senate and House of Representatives.
Having received Senate support, the bill moves to the House of Representatives for consideration.
Senate Acts to Help Farmers Meet Rising Demand for Home Delivery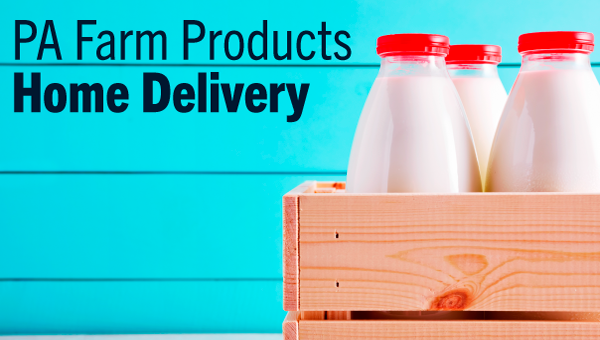 Legislation to help farmers meet the rising demand for farm products delivered to homes was approved by the Senate.
The current vehicle code allows for home deliveries via a commercial vehicle registration, but prevents the commercial vehicle from being registered as a farm vehicle. As a result, a farmer needs to purchase, register and maintain a separate commercial vehicle for at-home delivery, while also maintaining a farm vehicle to deliver agricultural commodities to places of business.
Senate Bill 95 would remove this duplicative, unnecessary and overburdensome requirement. The bill was sent to the House of Representatives.
Measure to Boost Volunteer Fire Company Membership Approved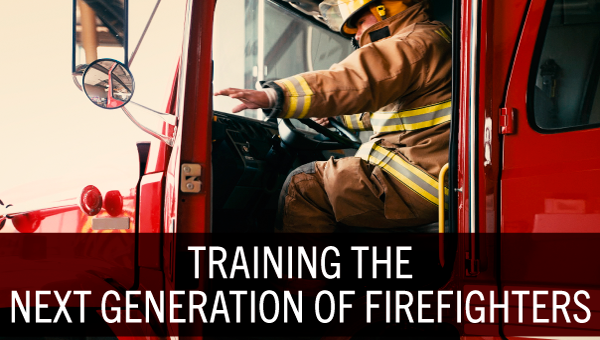 To address the serious shortage of volunteer firefighters across Pennsylvania, the Senate passed legislation to create a pilot program giving interested high school students training in firefighting.
Senate Bill 114 would award grants to one higher education school each in eastern, central and western Pennsylvania to establish fire training programs for students in high school, with the hope they will remain firefighters for years to come.
The number of Pennsylvania volunteer firefighters has plummeted from 300,000 in the 1970s to fewer than 37,000. Senate Bill 114 was sent to the House of Representatives.
Welcoming Three Residents to the 100th Birthday Club
There are three ladies of the 36th District who recently celebrated the momentous occasion of their 100th birthdays. It was an honor to help them mark this achievement, and I wish them continued health and happiness.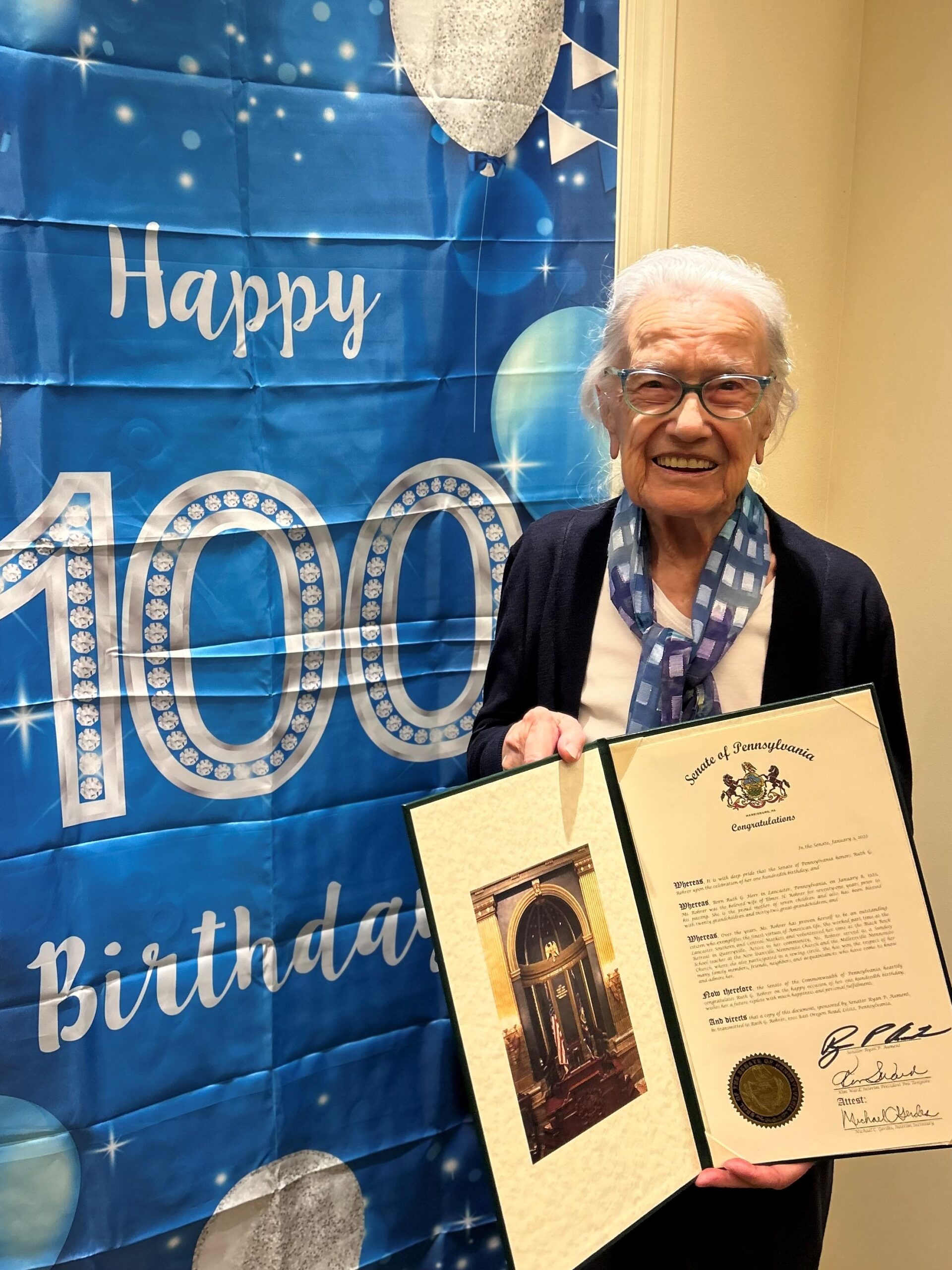 Ruth Rohrer was married to Elmer Rohrer for 71 years before his passing. She is the proud mother of seven children and has been blessed with 20 grandchildren and 32 great-grandchildren.
She worked part time at the Lancaster Southern and Central Markets and volunteered at the Black Rock Retreat in Quarryville. Ruth also served as a Sunday School teacher in at the New Danville Mennonite Church and the Millersville Mennonite Church, where she also participated in a sewing circle.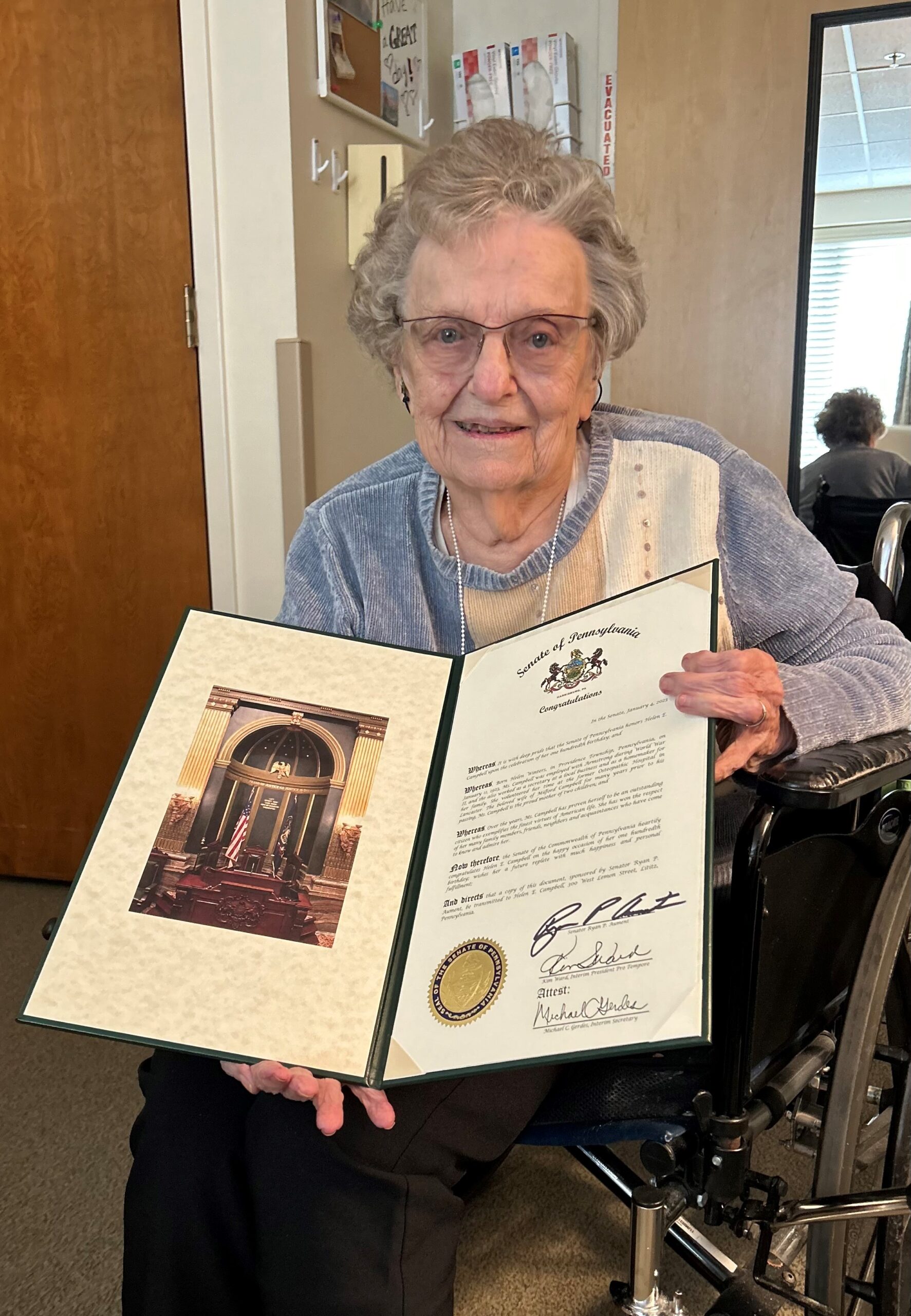 Helen Campbell was the beloved wife of Milford Campbell and is the proud mother of two children.
She worked for Armstrong during World War II and as a secretary at a local business. She volunteered at the former Osteopathic Hospital in Lancaster.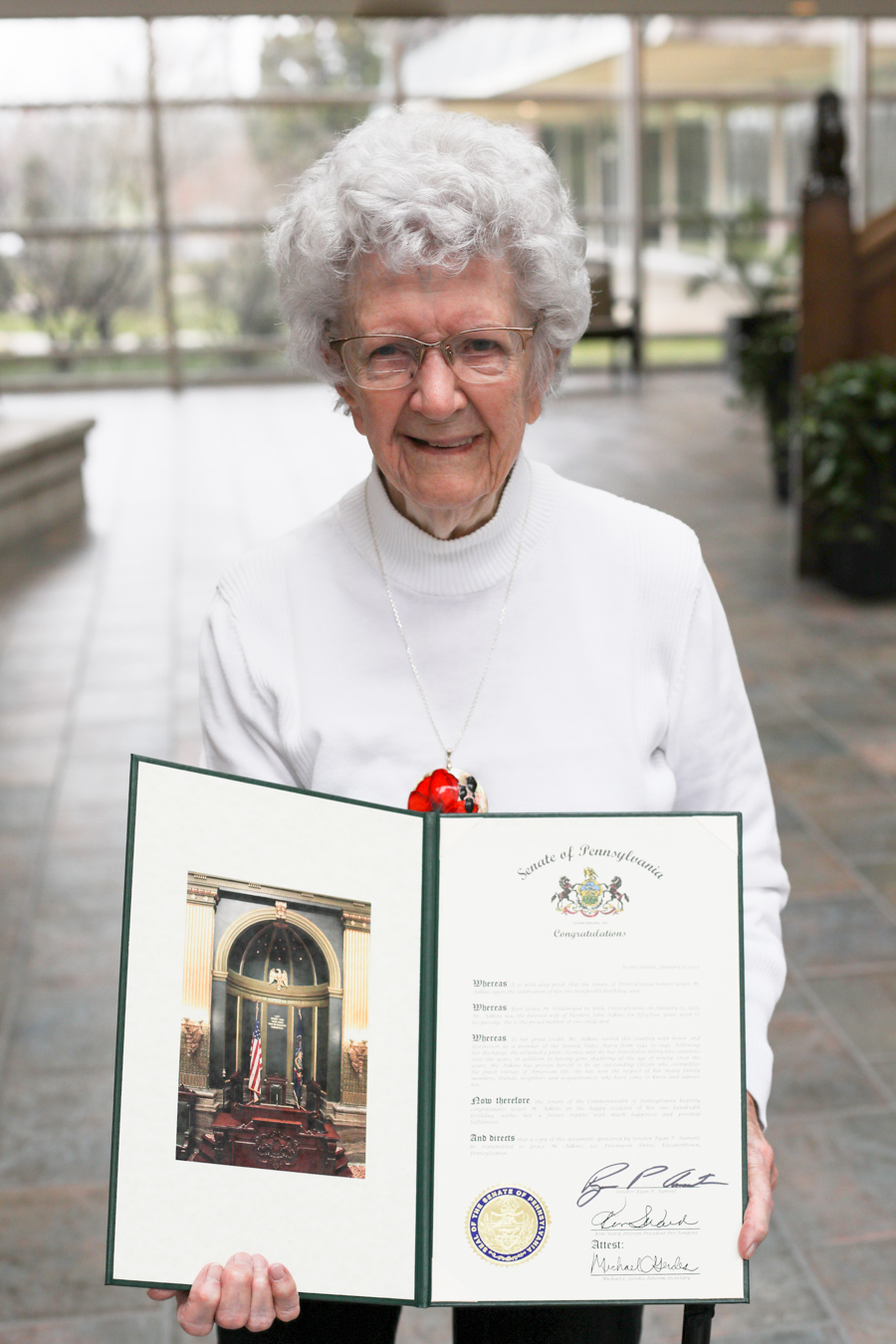 Grace Adkins was married to Herbert Adkins for 54 years before his passing and is the proud mother of one child.
She served this country with honor and distinction as a member of the United States Navy from 1943 to 1945. Following her discharge, she attained a pilot's license, and she has traveled to 32 countries. She also went skydiving at 90.
PennDOT Job Openings Posted for College Students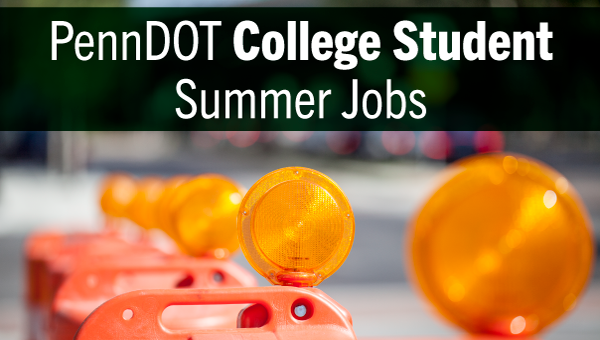 Summer PennDOT jobs are available to full-time college students registered for the Fall 2023 semester.
Jobs include assisting in seasonal maintenance work, crash system input and analysis, and maintenance and custodial services at roadside rest facilities. Many students also perform laboring and flagging duties in maintenance organizations and at highway worksites. The pay is $15.49 per hour.
Students majoring in engineering or a related scientific or technical field might be interested in engineering internship opportunities at PennDOT's Central Office (Harrisburg) or at one of its statewide engineering district offices.
Veterans: Now is a Good Time to Review and Update Benefits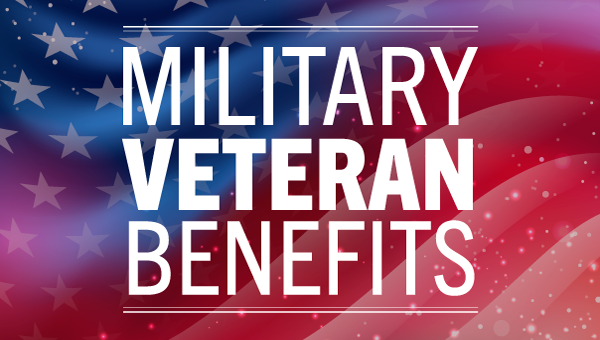 The Pennsylvania Department of Military and Veterans Affairs (DMVA) says that the start of the year is a good time for veterans to meet with an accredited veteran service officer to ensure they are receiving or maximizing the benefits they have earned through their service and sacrifice while in uniform.
Safeguarding military paperwork – especially the DD-214, which is used to verify military service – is an important first step for securing benefits. Filing these documents for free at the county courthouse is an easy way to secure them until needed, which can often be decades into the future. Anyone needing assistance locating their military documentation can call the DMVA at 800-547-2838 or e-mail RA-REQ@pa.gov.
A complete list of accredited county directors of veterans affairs and their contact information can be found here. Contact information for accredited veteran service officers can be found here.
Blood Donation is Easy and Safe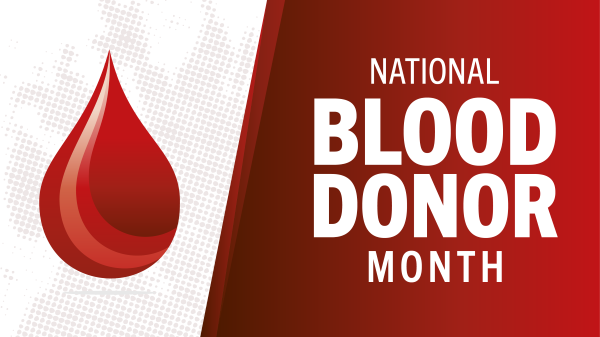 Every two seconds, someone in the U.S. needs donated blood. Blood donors help accident and burn victims, heart surgery and organ transplant patients, those battling cancer and others.
Please take the occasion of National Blood Donor Month to consider providing this lifesaving gift. You can find the nearest blood drive here, and learn more about the process here.