Thank you for subscribing to my E-newsletter. I am honored to serve the 36th Senatorial District and look forward to working with you toward building a stronger Pennsylvania. This E-newsletter serves to keep you updated on what is happening throughout  Lancaster County and what I am doing as your State Senator in Harrisburg – I hope that you find it helpful! Should you have any questions, comments, or concerns, please DO NOT reply to this email; instead, please feel free to contact me here.

In this Update:
Creating a Fresh, Effective Education System
Register Now for My Coffee & Conversation Event on April 17
Senate Concludes Week Two of Budget Hearings
Celebrating the Service of Two Local Constituents
Discussing Key Educational Topics at IU13 Event
Thanking Local Firefighters for Their Service
Touring International Paper's Solid Fiber Plant
Helping PA Compete and Win with Pro-Growth Tax Reforms
Help Our Struggling Military Members
Veterans: Town Hall about PACT Act on April 4
---
Creating a Fresh, Effective Education System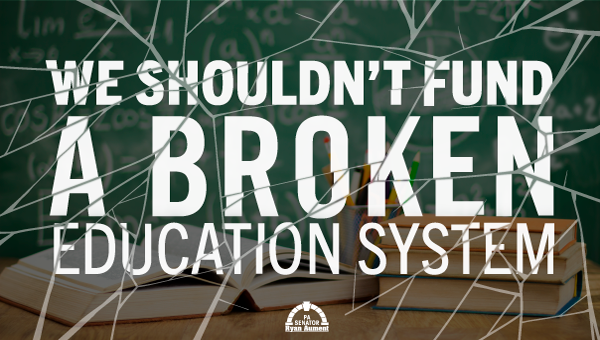 Our current education system isn't giving students the training they need to successfully enter the workforce, and more employers are looking to the commonwealth to prepare kids to be productive members of society.
Of course, money alone cannot fix Pennsylvania's antiquated school system that was built more than a century ago. It has goals that are no longer relevant in today's globally competitive, knowledge-based job market, which is prone to rapid change and disruption.
To create a fresh and effective shared vision and expectation of our education system, I introduced a bill to establish the Commission on Education and Economic Competitiveness.
The bipartisan and bicameral group will:
Study the challenges with the current system,
Learn from approaches to systematic redesign all over the world, and
Come up with innovative policy solutions that will enable educators and students to meet the future head on.
Read more here.
Register Now for My Coffee & Conversation Event on April 17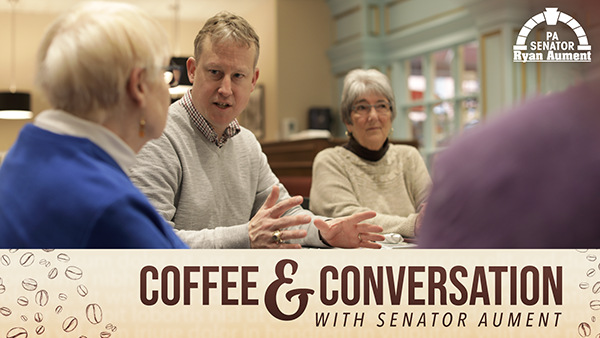 Crowded town halls aren't for everyone, so join me for a casual conversation over coffee on Monday, April 17, from 9-11 a.m. at the Manheim Township Municipal Building, 1840 Municipal Drive, Lancaster.
This will be an informal opportunity to discuss the issues that are most important to Lancaster County communities. Light refreshments will be available for visitors. Please feel free to drop in any time between 9 a.m. and 11 a.m.
Please click here to RSVP to attend the event.
Senate Concludes Week Two of Budget Hearings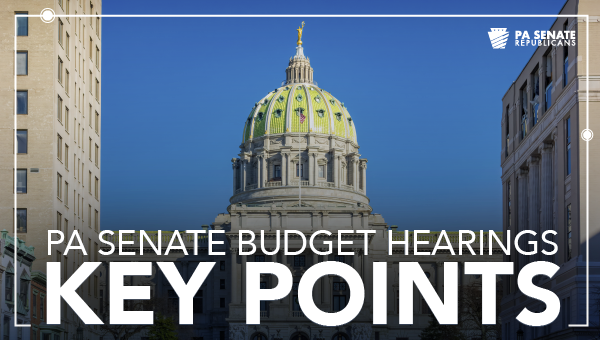 The Senate Appropriations Committee continued public hearings this week on the proposed 2023-24 state budget.
Gov. Josh Shapiro's $45.8 billion budget seeks to boost state spending by more than $1.3 billion above the current year's budget. Projections indicate it will nearly wipe out the state's Rainy Day Fund in five years.
Among the highlights:
The Department of Education hearing focused on the largest proposed Basic Education Funding increase in Pennsylvania history as well as Gov. Shapiro's failure to follow through on his promise to fund Lifeline Scholarships, a key provision to help provide families with greater options to meet their educational needs.
At the Department of State budget hearing, the committee sought details about federal and private election funding, county election grants, funding outreach to unregistered voters and publishing constitutional amendments.
At the hearing for the Department of Labor and Industry, members discussed the potential for major job losses if Pennsylvania enters the Regional Greenhouse Gas Initiative. Persistent concerns about Unemployment Compensation (UC) claims processing and preventing UC fraud were also leading topics.
The Department of Agriculture hearing included acknowledgment that the Norfolk Southern train derailment impacted many residents at Pennsylvania's border with Ohio, including farmers. Testing of livestock and crops will continue following that incident.
During the Pennsylvania State Police hearing, there was discussion about funding methods, as the state police currently receives money out of the Motor License Fund. The governor proposed phasing in a new Public Safety and Protection Fund.
Find full hearing recaps, video, livestreams and upcoming schedule at PASenateGOP.com.
Celebrating the Service of Two Local Constituents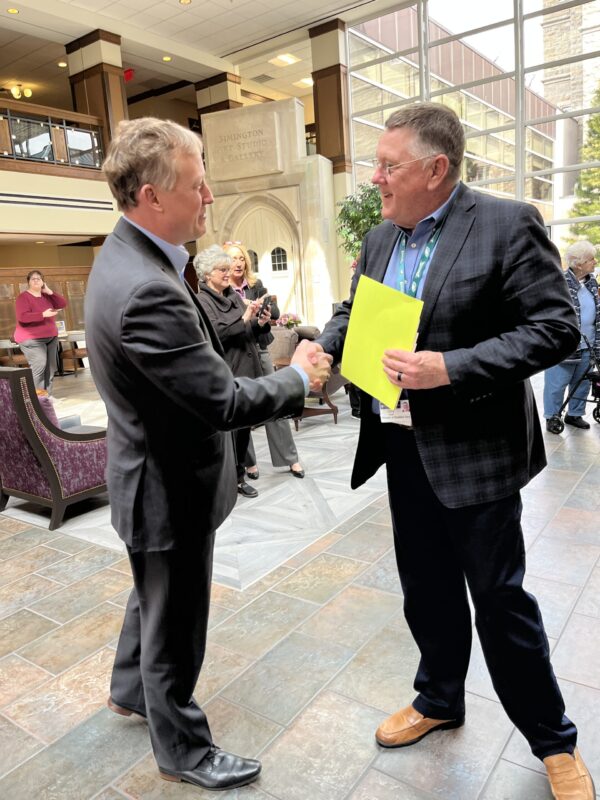 I recently had the opportunity to recognize two dedicated gentlemen upon their retirement. I thank them both for their service to the community and wish them well as they begin a new chapter in life.
In 1981, Gary Wylde began his career with Masonic Villages as a child care worker. He served as a recreation worker for a couple of years before accepting a position as a social worker. Then he was a resident counselor for nearly two decades before becoming the director of resident services, the position he had when he retired after 42 years of service. He assisted Masonic Villages during the COVID-19 pandemic by coordinating visitors during that challenging time.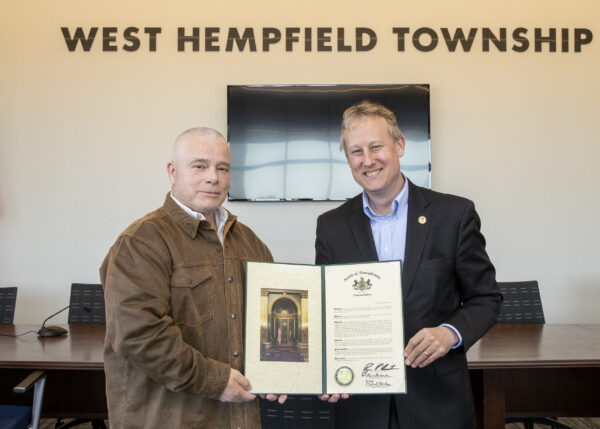 Sgt. Russell Geier retired from West Hempfield Township Police Department after diligently serving his community for more than 36 years.
After working as a community service aide with the Lancaster Bureau of Police and a deputy with the Lancaster County Sheriff's Office, Sgt. Russell Geier began his tenure with the West Hempfield Township Police Department in 1988. He was promoted to corporal in 1991 and sergeant in 2006. Additionally, he served as an administrative sergeant for many years, focusing on procuring equipment and technology that improved department operations. He dedicated time to community service programs, including the Jail Bail Fundraiser and Shop with a Cop. Notably, he was awarded the Lancaster County Chiefs of Police Career Achievement Award in 2022 and was recognized by the Pennsylvania Aggressive Driving Enforcement & Education Program in 2015 and 2010.
Discussing Key Educational Topics at IU13 Event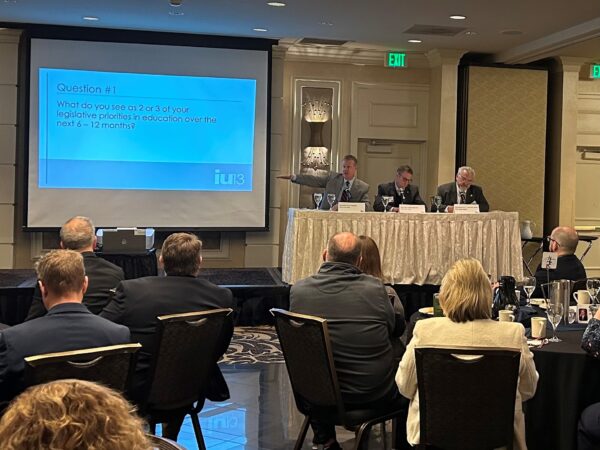 I appreciated the opportunity to speak with school leaders from across Lancaster-Lebanon IU13 about my proposal to establish the Commission on Education & Economic Competitiveness. Sen. Chris Gebhard and Rep. Mike Sturla joined me for a panel discussion at this year's legislative breakfast. I was honored to participate in the discussion about key educational topics facilitated by Dr. Sherri Smith, executive director of the Pennsylvania Association of School Administrators.
Thanking Local Firefighters for Their Service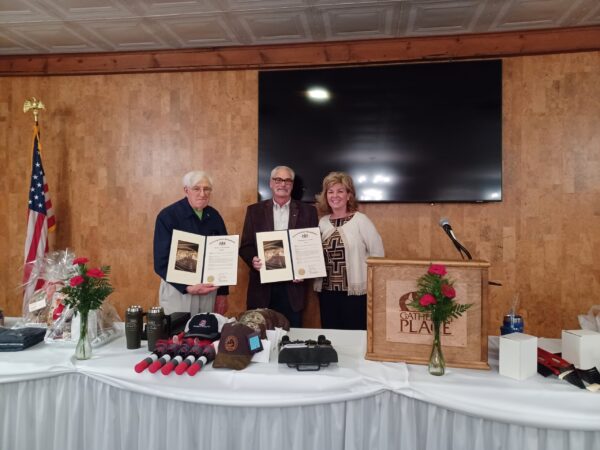 Pictured, from left: Bob Fichthorn, Harry Barnett, Rep. Mindy Fee
Penryn Fire Company held its annual banquet on March 4 and honored two long-time members – Bob Fichthorn (58 years) and Harry Barnett (52 years). Unfortunately, I was unable to attend, so Rep. Mindy Fee presented her own House citation and our Senate citation to the men.
Bob joined the fire company in 1965 and continues to respond to calls, most recently in December 2022. An active firefighter early in his tenure, he transitioned to the fire police in the 1980s and later served as captain of the fire police. Bob was instrumental in the purchase of the first Penryn Fire Police Traffic Unit and in securing all the necessary equipment.
Harry joined the fire company in 1971 and served as a driver and engineer prior to becoming the chief engineer. In addition, he trained many drivers on techniques and pump operations, and he has served on every new fire apparatus committee. To his great credit, Harry is lauded as the top responding member of the company, having answered 90 of the 145 calls in 2022.
Both men have faithfully worked to preserve and protect the health, safety, and welfare of others, and I am grateful for their service.
Touring International Paper's Solid Fiber Plant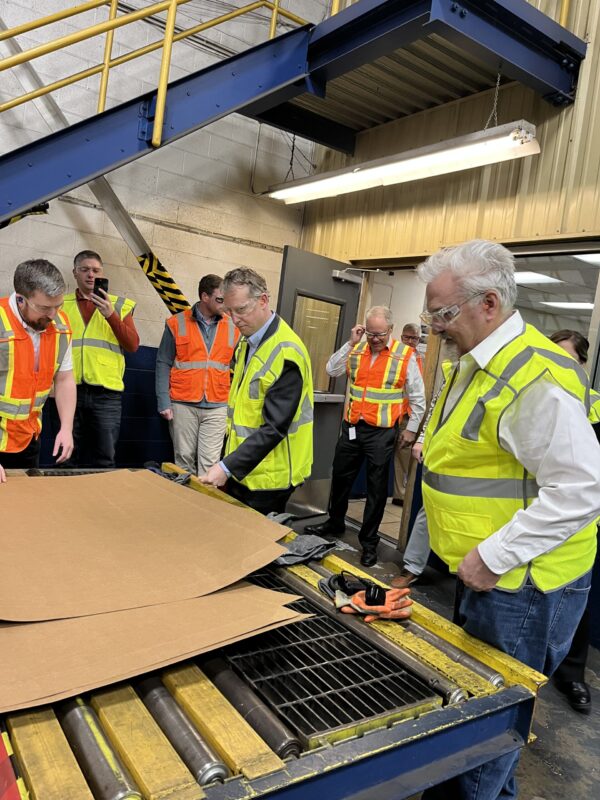 Rep. Mike Sturla and I visited International Paper's Solid Fiber Plant in Manheim Township for a briefing and tour. International Paper supplies renewable fiber-based products. The company produces corrugated packaging products that protect and promote goods, and enable worldwide commerce. It also produces pulp for diapers, tissues, and other personal care products.
Helping PA Compete and Win with Pro-Growth Tax Reforms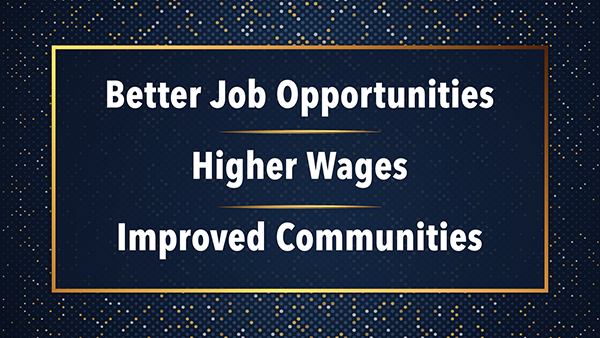 Not only would pro-growth tax reforms ensure Pennsylvania is an attractive place to live and work, they would also make our state more economically competitive. The reform package my colleagues Sens. Tracy Pennycuick, Greg Rothman, and Judy Ward and I unveiled will help the commonwealth compete and win. Specifically, the bills would:
Accelerate the Corporate Net Income (CNI) tax reduction so it is more in line with a bill I sponsored in 2022,
Increase the Net Operating Loss (NOL) carryover limitation, and
Allow small employers to use the NOL deduction.
Learn more about our pro-growth tax reform package here.
Help Our Struggling Military Members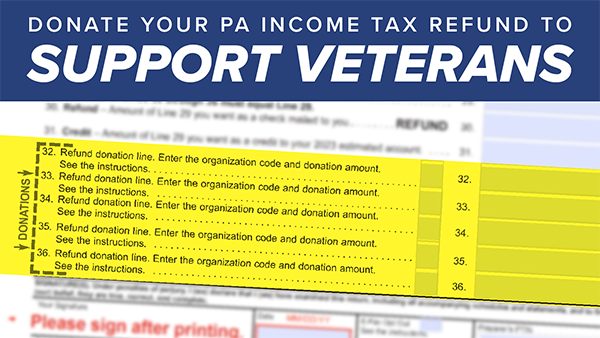 Anyone who is owed a Pennsylvania personal income tax return has a convenient opportunity to support our military members, veterans and their families who are facing tough times.
You can help those who serve our nation and commonwealth by making a gift to the Military Family Relief Assistance Program. All donations will benefit those with a direct and immediate financial need as a result of circumstances beyond their control.
On lines 32 through 36 of the Personal Income Tax Return, fill out Code C. If you do not have an overpayment on your return, you may make a donation by sending a check directly to the Military Family Relief Assistance Program, c/o Department of Military and Veterans Affairs, Building 0-47, Fort Indiantown Gap, Annville, PA 17003-5002.
Veterans: Town Hall about PACT Act on April 4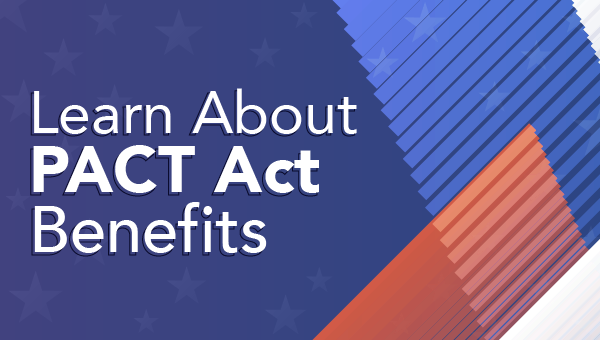 The Pennsylvania Department of Military and Veterans Affairs (DMVA) will hold an in-person Veteran Town Hall on the Promise to Address Comprehensive Toxics (PACT) Act on Tuesday, April 4, from 6-8 p.m. at the West View VFW Post 2754, 386 Perry Highway, Pittsburgh. The town hall will also be available by phone.
The new federal PACT Act law expands VA health care and benefits for veterans exposed to burn pits, Agent Orange and other toxic substances. The town hall will enable veterans and their advocates to learn and ask questions about eligibility and applying for benefits related to the PACT Act.
In-person attendees may arrive early to enjoy a dedicated resource fair from 5-6 p.m. People who will be attending any portion of the event in person are asked to register by calling 717-644-3890.
Anyone joining the town hall by phone should call 267-332-8737 and enter Conference ID: 989503340# to participate. Both in-person attendees and callers will be able to ask questions during the town hall.

If you are not already subscribed to this newsletter please sign up here.