May 25, 2018

Senate Approves Measures Addressing Standardized Tests, Vocational Teacher Requirements
One of my highest priorities in the legislature is ensuring the resources we dedicate to education are achieving the goal of preparing students to face the challenges of the workforce after they graduate. The Senate took action on two measures this week that I introduced to help ensure standardized testing and vocation teacher certification requirements are continuing to meet these goals.
There is a vigorous debate regarding the effectiveness of data produced by standardized testing, both as a measure of student achievement and teacher performance. The Senate approved a resolution I sponsored that would direct the Legislative Budget & Finance Committee to study the effectiveness of standardized testing so we can make certain that any data used for these purposes is reliable.
The Senate also passed a bill I sponsored to modernize certification requirements for vocational teachers. In current practice, many career and technical education teachers are required to take a number of classes that have no bearing on the subjects the teacher will cover in the classroom. My bill would limit the number of credits required and remove some requirements that are not relevant to the subject matter taught in the classroom.
There is a growing demand for skilled labor positions throughout the Commonwealth, and we need to ensure that the best career and technical education teachers remain in Pennsylvania. These changes would make Pennsylvania's teacher certification requirements more competitive with the requirements in other states.
More information about these bills is available here.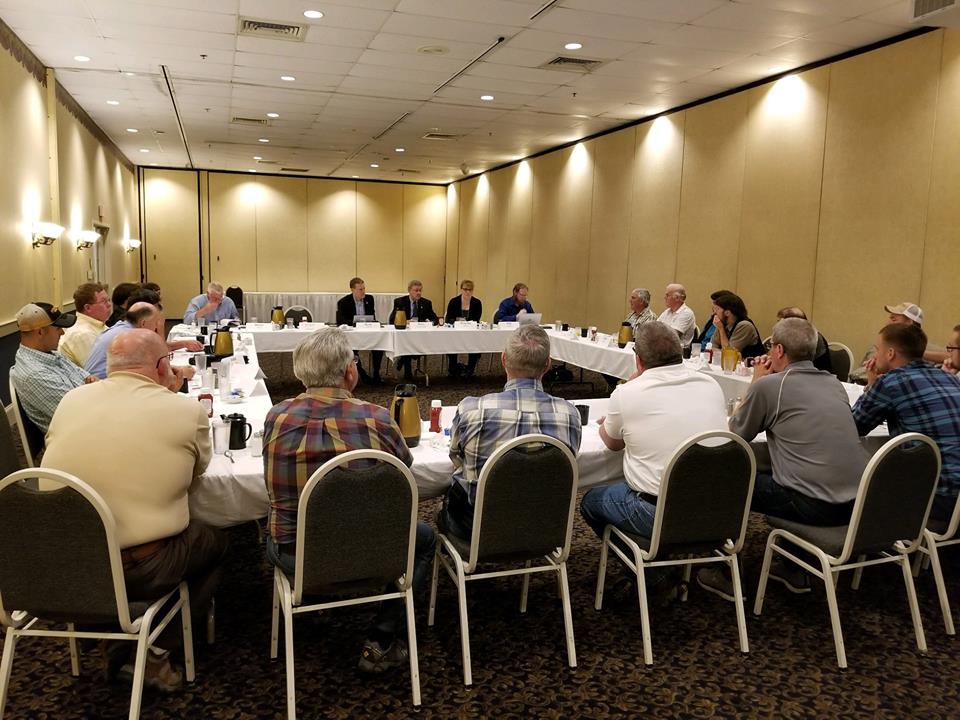 I appreciated the chance to join Rep. David Zimmerman in New Holland to meet with dairy farmers to discuss issues that are important to the industry. My thanks to Sensenig's Feed Mill for hosting our conversation at Yoder's.
New Promotion Supports PA Dairy Industry
The dairy industry is one of the biggest sectors of Pennsylvania's agriculture industry. The Pennsylvania Department of Agriculture is partnering with a number of organizations to help consumers support dairy providers in Pennsylvania.
The "Choose PA Dairy" campaign aims to educate consumers about the health benefits of milk and highlight dairy providers in Pennsylvania and the retailers who carry their products. More information on the effort is available online at www.ChoosePADairy.com.
Other partners in the effort include the Center for Dairy Excellence, the Pennsylvania Dairymen's Association, PA Preferred, the American Dairy Association North East, Professional Dairy Managers of Pennsylvania and other organizations.
Nuclear Energy Caucus Discusses Impact of Premature Plant Closures on Workers, Communities
The bipartisan, bicameral Nuclear Energy Caucus met at the state Capitol this week to discuss the value of nuclear power to Pennsylvania's workforce and local communities. In addition to a conversation about how the industry impacts the overall economy, the meeting also included a specific discussion of the impact of nuclear power production on Pennsylvania's workforce. Today, Pennsylvania's nuclear stations support over 16,000 direct and indirect jobs, and two plants have recently announced that they are being forced to deactivate early.
Video of the full meeting and written testimony are available online here.
Women Veterans Invited to Participate in Survey
Pennsylvania's approximately 60,000 female veterans are invited to participate in an online survey on state services to identify areas of concern. The survey, which is available through June 18, will cover all of the benefits and services available to veterans, including health care and veterans' service organizations. The Pennsylvania Department of Military and Veterans Affairs will use the data to help improve policies pertaining to the programs and services available to women veterans.
The survey is available online here.
Wishing All Community Residents a Safe Memorial Day
On Memorial Day, it is our duty to remember those Americans who served their country and paid the ultimate sacrifice. We honor those who gave their lives so that we all can live freely, and we do so reverently, with great humility and thankfulness.
Memorial Day weekend is one of the busiest travel weekends of the year. I encourage all community residents to avoid dangerous behaviors on the roadways to ensure everyone can enjoy a safe holiday weekend.