August 3, 2018

National Flood Insurance Program Offers Affordable Coverage
Floods are the nation's most common and costly natural disaster, causing millions of dollars' worth of damage every year. Recovering from just one inch of water inside a building can cost nearly $30,000. Most property damage resulting from flooding is not covered by a homeowner's or renter's insurance policy.
To help those affected by flooding on private and public structures, FEMA established the National Flood Insurance Program (NFIP) which offers affordable flood insurance to property owners, renters and businesses. This insurance can be purchased from insurance agents for properties that are located in NFIP-participating municipalities. Only 19 municipalities in Pennsylvania do not participate.
Due to the devastating flooding across the state, many are dealing with uncovered losses. Those affected are advised to report any losses to their local emergency management agency or municipality. FEMA offers information on their webpage on low interest loans, grants and qualifications to help citizens recover from disasters. Individuals and businesses can immediately apply for federal aid by visiting www.disasterassistance.gov or calling 1-800-621-FEMA (3362).
For more general information about the program, visit the NFIP Fact Sheet.
REAL ID Requirements Go Into Effect in October 2020
Beginning on October 1, 2020, Pennsylvanians will need a new kind of photo ID in order to board a commercial flight or enter a federal building or military installation that requires identification. Because of changes in federal law, current driver's licenses and photo ID cards will no longer be accepted.
The federal REAL ID Act requires state driver's licenses and photo ID cards to meet higher security and fraud prevention standards. Beginning in the spring of 2019, state residents will have the option to purchase a new type of REAL ID-compliant driver's license that will be accepted as valid identification at airports, federal facilities and military bases.
State residents who wish to learn more about REAL ID – or pre-verify to receive a REAL ID-compliant license or photo ID card – can find more information here.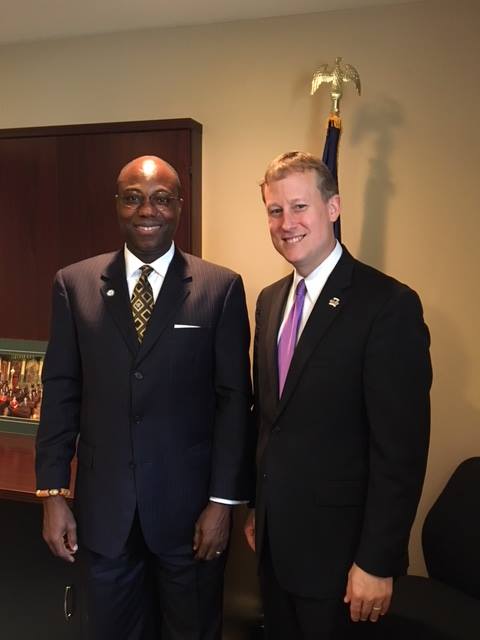 I appreciated the chance to meet with new Millersville University President Dr. Daniel Wubah in my Lititz office.
Persian Gulf Veterans Bonus Program Ends August 31
Current and former members of the United States military, a reserve component of the United States military, or the Pennsylvania National Guard who served in the Persian Gulf War may be eligible for a special one-time bonus of up to $75 per month served in the theater of operations. The deadline to apply for the program is August 31, 2018.
Full details and application procedures for the Persian Gulf Conflict Veterans' Benefit Program are available online here.
Resources Available to Help Prevent Identity Theft
More than 10 million Americans have their personal information stolen each year. Thieves use this information – such as an individual's name, social security number, bank account or credit card number – to open phony accounts that can create serious consequences for victims, including not being able to purchase a home or obtain a job.
Education is the most effective way to prevent personal information from falling into the wrong hands. The Pennsylvania Attorney General's Office offers a number of tips to help state residents avoid being victimized by identity theft. To learn more about preventative and corrective measures, including information about credit reports and fraud alerts, visit the Attorney General's webpage here.
Additionally, Pennsylvania has a large percentage of elderly residents, who are often favored targets for many kinds of fraud. For more senior protection resources, including tips to identify elder abuse, click here.
Exploring Campgrounds in Pennsylvania
Camping is a fun and affordable activity enjoyed by many throughout the state. Pennsylvania offers a wide variety of scenic camping destinations, with over 400 sites to choose from. Many popular destinations include the Amish farmlands of Southeast and Southcentral Pennsylvania, the Pocono Mountains, the Pennsylvania Grand Canyon and the beaches of Lake Erie.
To find a tent site, RV site, cabin or cottage rental that meets your needs, visit http://www.pacamping.com/. Camping tips, an essentials list and meal suggestions can also be found on the website. Special camping deals are available under their Promotions & Coupons tab.