Thank you for subscribing to my E-newsletter. I am honored to serve the 36th Senatorial District and look forward to working with you toward building a stronger Pennsylvania. This E-newsletter serves to keep you updated on what is happening throughout  Lancaster County and what I am doing as your State Senator in Harrisburg – I hope that you find it helpful! Should you have any questions, comments, or concerns, please DO NOT reply to this email; instead, please feel free to contact me here.

In this Update:
Are You Owed Unclaimed Property?
Medicare Beneficiaries: Get Free Health Benefits Counseling
Recognizing Outstanding Pennsylvania Educators
Heating Assistance Program Open Now
Slow Down, Stay Alert for Deer
Honoring the Sacrifices of Our Veterans
Learn About How to Prevent Human Trafficking at My Nov. 13 Event
Aaron's Acres Celebrates 25 Years
Welcoming Visitors from Masonic Villages to the PA Capitol
Spending the Day with Two Shadows at the State Capitol
---
Are You Owed Unclaimed Property?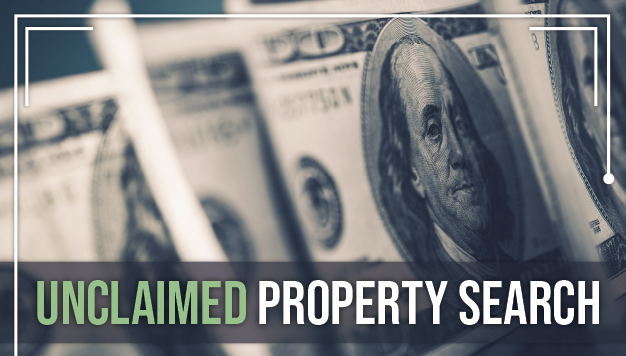 The Pennsylvania Treasury Department is currently holding more than $4.5 billion in unclaimed property, with about one in 10 residents eligible to recoup that property.
Unclaimed property includes dormant bank accounts, uncashed checks, insurance policies and contents of forgotten safe deposit boxes. The amounts can range from a few dollars to a few thousand dollars, with the average value of a claim being about $1,600.
To find out if you or a member of your family is entitled to unclaimed property, please visit www.patreasury.com. Unclaimed property can now be returned via direct deposit, and the process can be further expedited if the claimant provides their Social Security number when filing a claim. Because all property will be returned free of charge, there is no need to pay a private service to submit a claim.
Medicare Beneficiaries: Get Free Health Benefits Counseling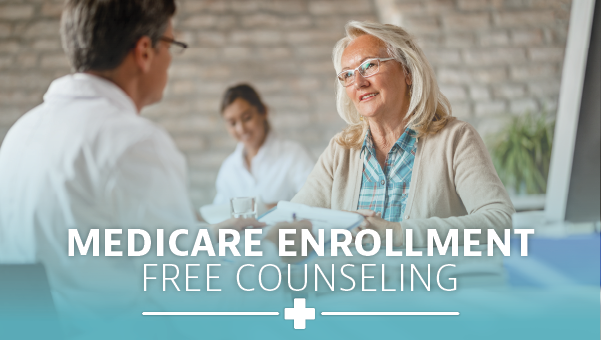 The open enrollment period for Medicare beneficiaries is active now until Dec. 7. Any new coverage selected or changes to existing benefits will take effect Jan. 1, 2024.
During open enrollment, new Medicare beneficiaries can sign up for Medicare Prescription Drug Coverage and health plans to complement Medicare, and current Medicare beneficiaries can review and join, switch or drop Medicare Advantage or Prescription Drug Coverage so that it better meets their needs.
To help Medicare beneficiaries understand their options, the Pennsylvania Department of Aging offers free, objective health benefits counseling through Pennsylvania Medicare Education and Decision Insight (PA MEDI). Available at Pennsylvania's 52 Area Agencies on Aging, PA MEDI counselors can assist Medicare beneficiaries with plan comparisons, help with enrollment in a new plan and evaluate eligibility for any of Pennsylvania's Medicare cost-savings programs. Learn more here.
Recognizing Outstanding Pennsylvania Educators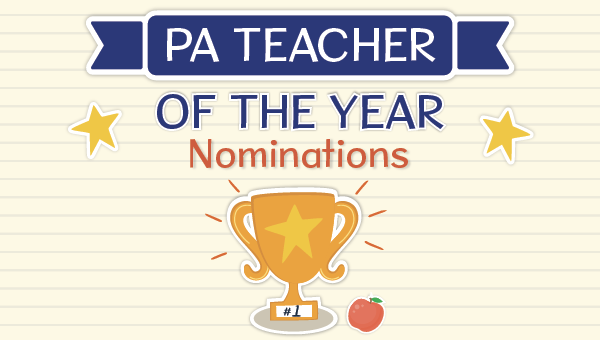 Pennsylvanians are encouraged to nominate their favorite teacher to be the commonwealth's 2025 Teacher of the Year by Friday, Dec. 15. The Teacher of the Year Program celebrates excellence in teaching and honors individuals who have made outstanding contributions to the young people of Pennsylvania.
The state's 2025 Teacher of the Year will be announced at an awards ceremony in early December 2024 and will represent the commonwealth at various local, regional and national functions culminating in the National Teacher of the Year ceremony at the White House.
Nominate your favorite teacher here.
Heating Assistance Program Open Now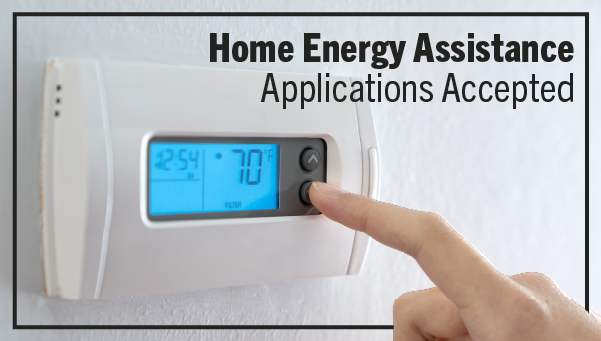 Residents struggling with their home heating bills may apply for assistance from the Low-Income Home Energy Assistance Program (LIHEAP).
LIHEAP is a federally funded program that helps individuals and families pay their heating bills through home heating energy assistance grants. It also provides crisis grants to help in the event of an emergency or if a resident is in danger of losing his or her heat due to broken equipment, lack of fuel or termination of utility service.
The income eligibility guidelines for LIHEAP are $21,870 for an individual, $29,580 for a couple and $45,000 for a family of four. Find limits for other family sizes here. Residents may apply for LIHEAP online or by contacting their local county assistance office.
Slow Down, Stay Alert for Deer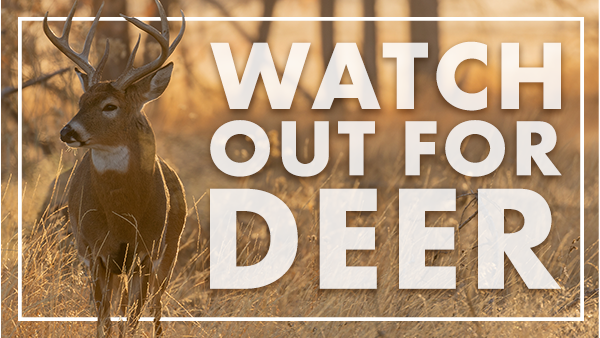 As the fall breeding season for deer is in full swing, it is more important than ever to slow down and remain alert for activity. This is particularly important in the commonwealth as Pennsylvania drivers unfortunately face one of the highest rates nationwide of a vehicular accident involving a big game animal, like deer: a 1-in-59 chance.
Drivers can reduce their chance of collisions with deer – and the associated injuries and property damage – by staying alert and better understanding deer behavior. Deer often travel in groups and walk in single file. If one deer crossed the road in front of a driver, another could be right behind it.
A driver who hits a deer with a vehicle is only required to report the accident to the Game Commission within 24 hours if the deer dies and the Pennsylvania resident wishes to keep the carcass. To do so, they can call 1-833-742-4868 or 1-833-742-9453. An agency dispatcher will collect the information needed to provide a free permit number. To report a dead deer for removal from state roads, motorists can call the Pennsylvania Department of Transportation at 1-800-349-7623.
Honoring the Sacrifices of Our Veterans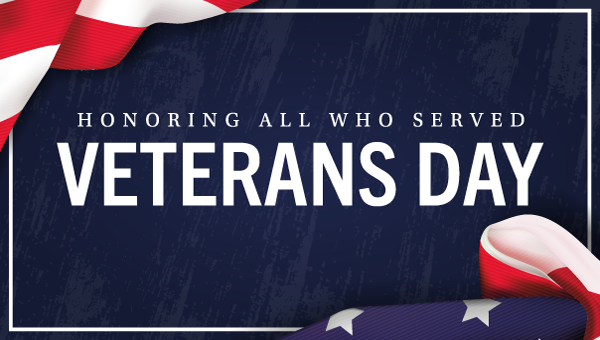 Saturday, Nov. 11, is Veterans Day, when we take time to reflect on the bravery of the men and women who served our country. Because they were willing to put their lives on hold to defend our great country, we enjoy freedoms many other people can only imagine.
To support our veterans, just this year alone Senate Republicans passed bills to create a logo promoting veteran-owned businesses, establish the Veteran-Owned Business Loan Guarantee Program, provide educational support for children of National Guard and Reserve members, exempt disabled veterans' benefit payments from income calculations for any commonwealth program or benefit and modernizes the way fishing licenses are issued for disabled veterans and military personnel.
In honor of the holiday, my offices will be closed on Friday, Nov. 10, and reopening to serve constituents on Monday, Nov. 13.
Learn About How to Prevent Human Trafficking at My Nov. 13 Event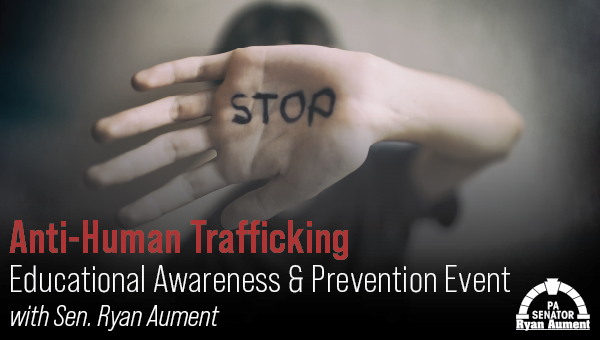 Human trafficking is an international crisis, but is particularly prevalent in Lancaster County. I am partnering with Rep. Mindy Fee, Lancaster County District Attorney Heather Adams, and Brad Ortenzi of Zoe International for an informational briefing. Parents, local officials, and community members are invited to learn about local human trafficking, how to recognize it, and what to do about it.
The event will be held on Monday, Nov. 13, from 6:30-8:30 p.m. at the Warwick Middle School Auditorium, 401 Maple St., Lititz. Register to attend here.
Topics will include the relationship between human trafficking, drugs, and social media; knowing what to do if individuals suspect human trafficking; learning how to keep children safe from trafficking; and success stories of the Lancaster County Human Trafficking Task Force.
Aaron's Acres Celebrates 25 Years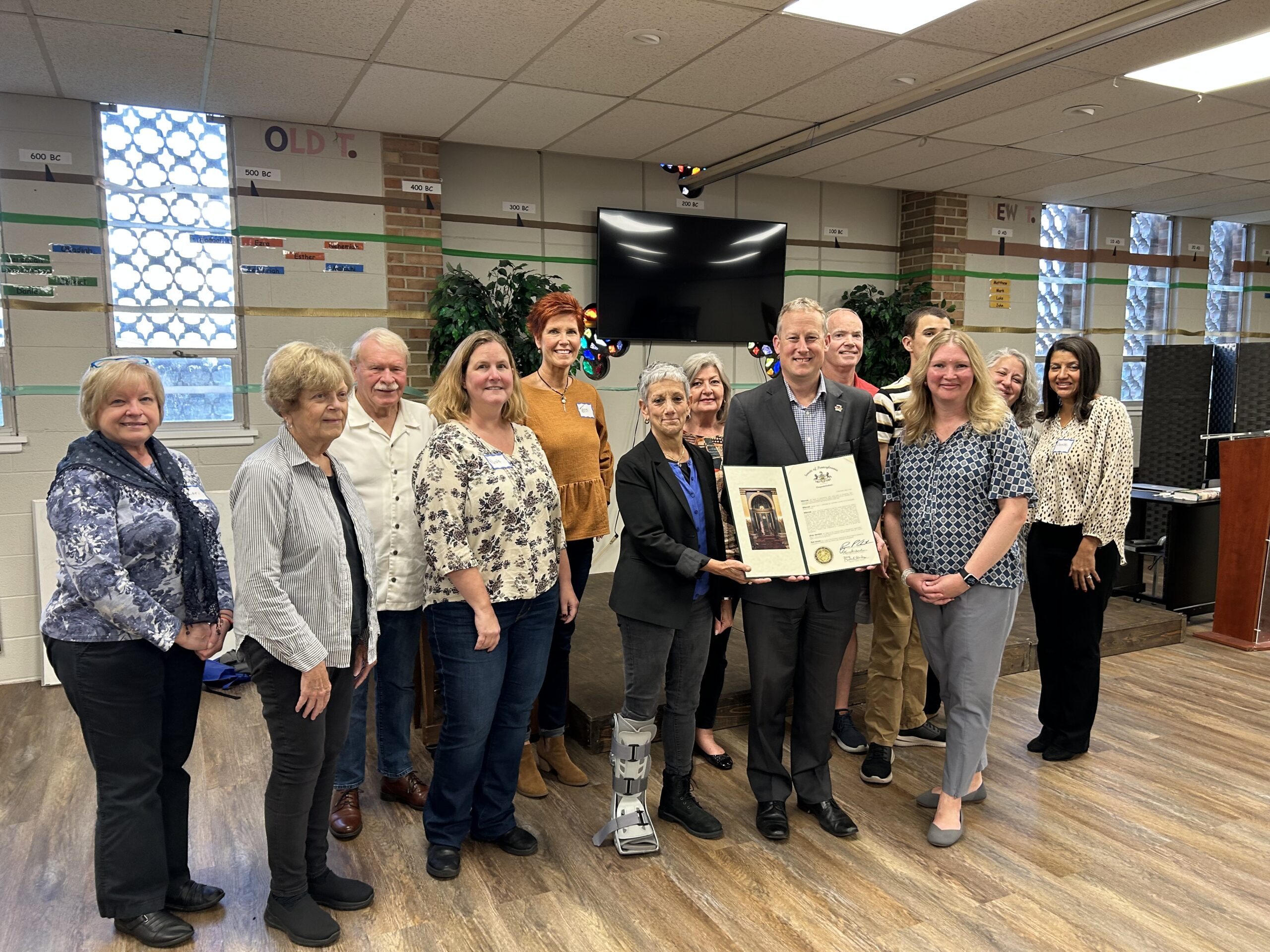 Happy 25th anniversary to Aaron's Acres! Established in 1998 by a group of parents for children of varying abilities and disabilities, the organization has grown tremendously.
In its first summer, the organization offered a week-long, half-day camp. Now it offers six summer camp weeks serving youth up to the age of 21. It introduced the buddy program, created a monthly school year program, and established the Volley for Kids and the Annual Golf Outing fundraising events. Aaron's Acres also offers a virtual program, a community service program, and children's and adult's sports programs.
It continues to provide recreational activities for ALL children, regardless of disability or financial limitations.
Welcoming Visitors from Masonic Villages to the PA Capitol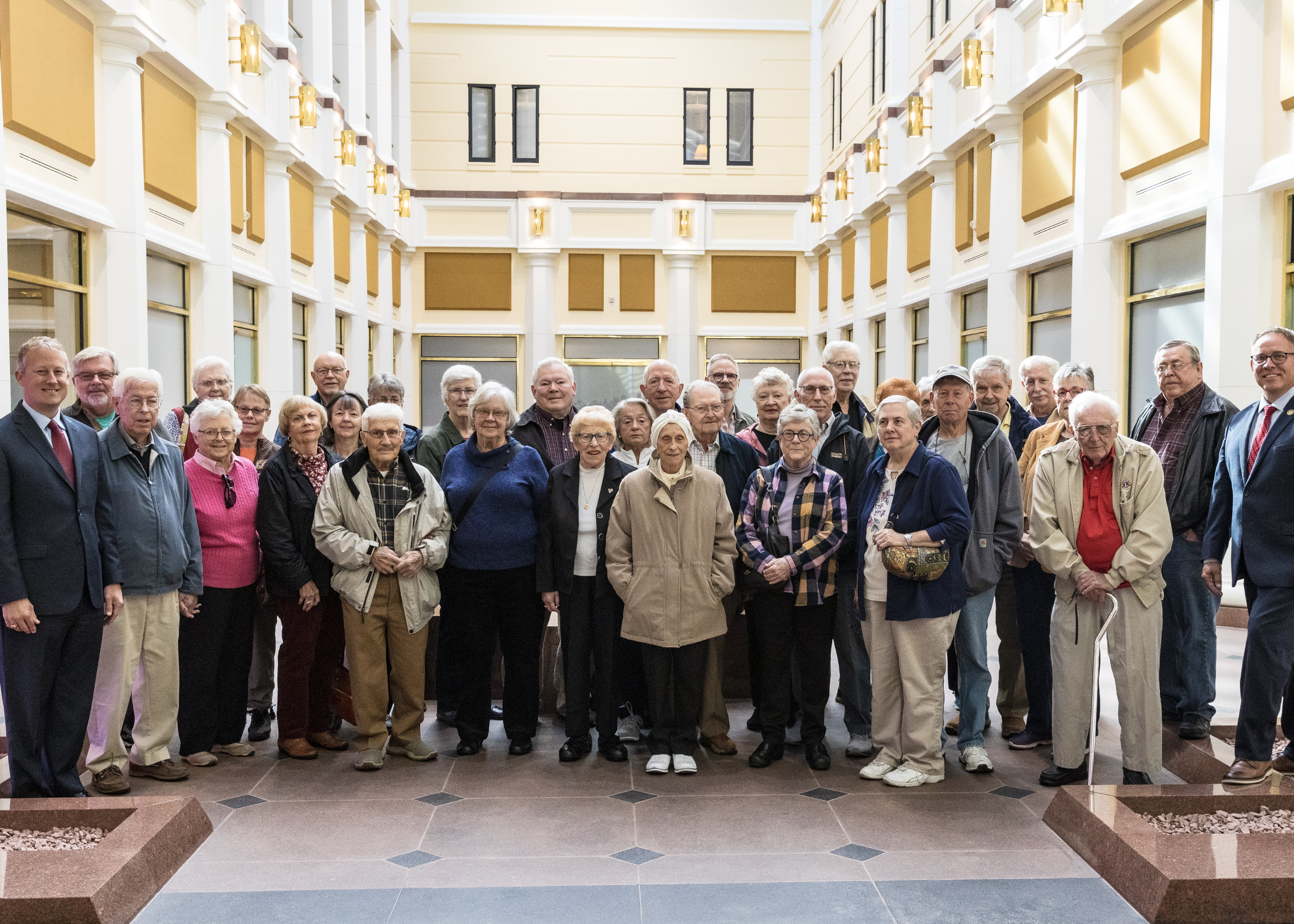 A group of retirees from Masonic Villages in Elizabethtown recently visited the State Capitol, many for the very first time! It was a pleasure to meet with them and enjoy the beauty of this historic building together.
Tours are free and very informative. If you're interested in learning more about this national historic landmark, book your tour here.
Spending the Day with Two Shadows at the State Capitol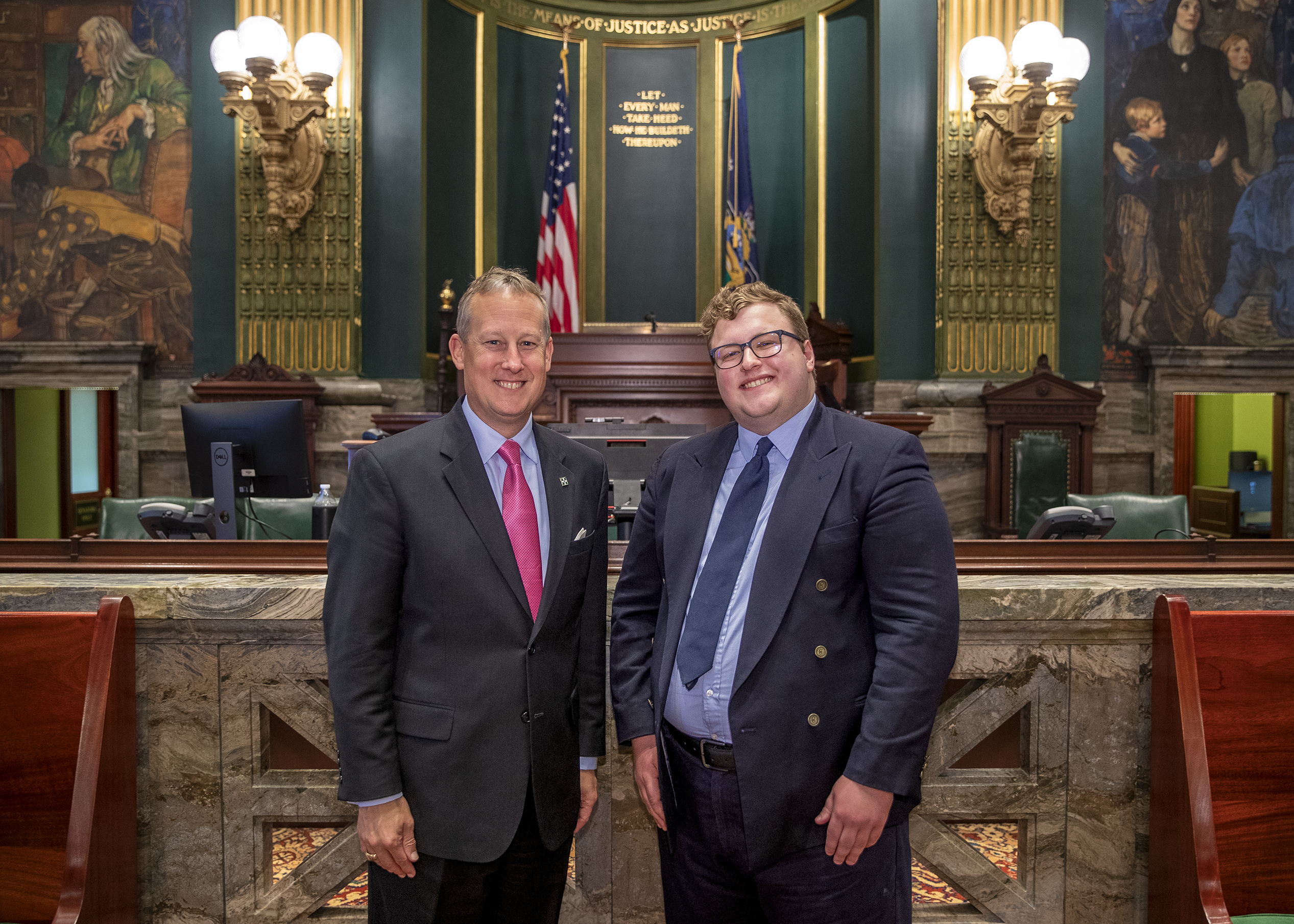 It was a pleasure to host Bloomsburg University graduate Bradley Roth as my shadow at the State Senate. Bradley is interested in research and constituent services, so I hope that spending the day at the Capitol helped him gain further insight regarding his next steps.
Aaron Ghee, a Manheim Central graduate and current Elizabethtown College sophomore, recently shadowed me for a day at the State Capitol. Aaron is studying to earn dual degrees in political science and legal studies.

If you are not already subscribed to this newsletter please sign up here.