In This Update:
Governor Announces New COVID-19 Restrictions
Senators Aument & Martin Host Virtual Town Hall on Election Issues
Dairy Farmers Receive COVID-19 Relief Funds
Unemployment Compensation Reminder
New Health and Wellness Guide Created for Older Adults
2021 Fishing Licenses on Sale Now
Commercial Driver Licenses, Learning Permits Extended
Wishing Our Friends and Neighbors a Happy Hanukkah
---
Governor Announces New COVID-19 Restrictions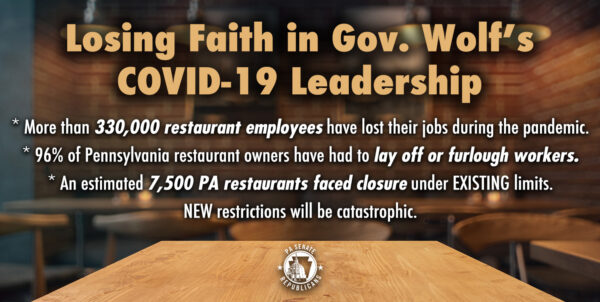 Governor Wolf has ordered a new round of COVID-19 restrictions that will begin on Saturday. The restrictions include a prohibition on indoor dining at restaurants, reduced occupancy limits on retail businesses, the suspension of all K-12 extracurricular activities and tighter capacity limits on both indoor and outdoor activities.
The new restrictions could be catastrophic for the restaurant industry, which has already seen hundreds of thousands of workers idled and more than 7,500 businesses closed since the beginning of the pandemic.
Now, perhaps more than ever before, it is critical that we take care of one another and support our local small businesses and restaurants during this difficult time. To that end, the Lancaster Housing Opportunity Partnership (LHOP) has a COVID-19 Support Resources webpage that suggests useful resources as well as courses of actions to take to help those who are struggling with finances and housing during the pandemic. Additionally, Discover Lancaster has a Shop Local in Lancaster webpage that contains helpful information on the many locally-owned restaurants and small businesses that could use our support over these next few weeks and months.
Finally, for those who may have questions about what I've been doing to both protect public health and preserve livelihoods throughout the pandemic, I would encourage you to check out my COVID-19 Response Timeline on my website for more detailed information.
Senators Aument & Martin Host Virtual Town Hall on Election Issues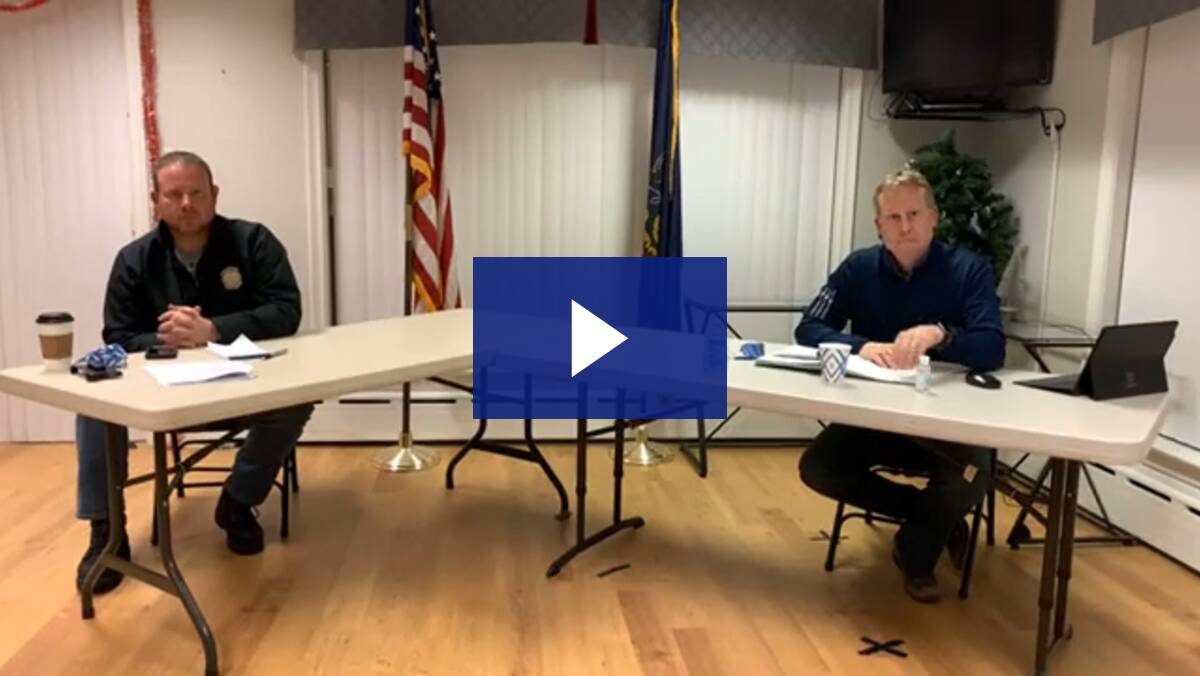 Earlier this week, Senator Scott Martin & I hosted a virtual town hall specifically to discuss and answer questions from constituents regarding the 2020 presidential election.
To be sure, there were procedural mistakes made in this election. For months, I have publicly argued that Governor Wolf, Secretary Boockvar, and the Pennsylvania Supreme Court have acted outside of their constitutional authority. However, these issues are separate from the claims of election fraud that many have asked me as a State Senator to respond and do something to address. In this tenuous moment, it is absolutely essential that the Constitutional balance of power between the branches of government be preserved. By design, the legislature makes laws and the courts interpret them. As such, the appropriate place to address allegations of election fraud is in the courts.
Further, it is the responsibility of those alleging fraud to bring evidence of wrongdoing to light in a court of law. To that end, the campaigns are currently arguing these allegations in court.
In order to fulfill my duty as an elected representative of the people in the General Assembly, I will continue to work to address procedural election issues and strengthen our election system in Pennsylvania. To that end, here are some of the proposals I have signed on to co-sponsor so far in the 2021-2022 legislative session:
As you can see, these proposals seek to make prospective changes to the election code, as retroactive changes to our election laws that would effect elections that have already occurred are prohibited by the PA Constitution. This limitation further emphasizes the important role of the court to handle contested elections.
Additionally, I have reintroduced my Fair Judicial Districts proposal to empower voters by allowing them to elect state appellate court justices by judicial districts that better reflect the diversity of our Commonwealth.
Finally, for those who may have missed it, here are links to two recent statements I've published regarding my position on these complex elections issues:
Results Over Rhetoric (12/3/2020)
Election Audits Are Necessary, Not Partisan (11/20/2020)
Dairy Farmers Receive COVID-19 Relief Funds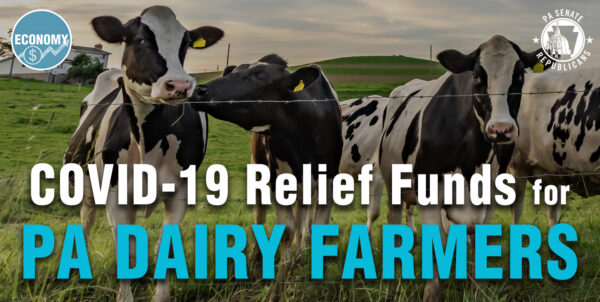 Many dairy farmers suffered heavy losses and were forced to discard milk during the early months of the COVID-19 pandemic. More than 1,500 Pennsylvania dairy farmers who were forced to dump milk due to market changes and supply line disruptions were awarded a total of $7.6 million in direct relief payments last week to mitigate their losses.
The payments were made as part of the Dairy Indemnity Program, which was created by Senate Republicans and funded by the federal CARES Act. Lawmakers also provided $16 million in funding in the recently enacted state budget for programs created by the General Assembly in recent years to support the agriculture industry.
Unemployment Compensation Reminder
As a result of Governor Wolf's new round of COVID-19 restrictions, many Pennsylvanians will again turn to the Unemployment Compensation (UC) system as a lifeline during these difficult times. First, I want to remind my constituents that my staff remains available to help you navigate the application process, reopen a claim, report UC fraud, or any other issues you may experience with the system.
Second, for those constituents who are in need of refiling for UC, please know that you must reopen a claim, NOT open a new one (unless your original claim is over 365 days old). If you are in need of assistance, please feel free to reach out to my office by phone at (717) 627 – 0036 or by web contact form at: https://www.senatoraument.com/voice-your-concerns/.
New Health and Wellness Guide Created for Older Adults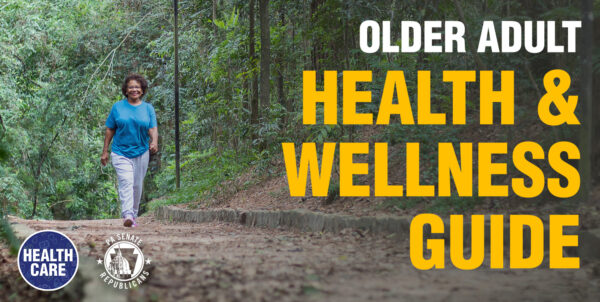 Older Pennsylvanians have faced some of the most difficult challenges in terms of physical and mental health during the COVID-19 pandemic. The Pennsylvania Council on Aging has created a new interactive guide to support seniors and combat some of the biggest sources of stress in their lives.
The guide includes resources, activities and videos to help older Pennsylvanians avoid social isolation and stay mentally and physically fit.
2021 Fishing Licenses on Sale Now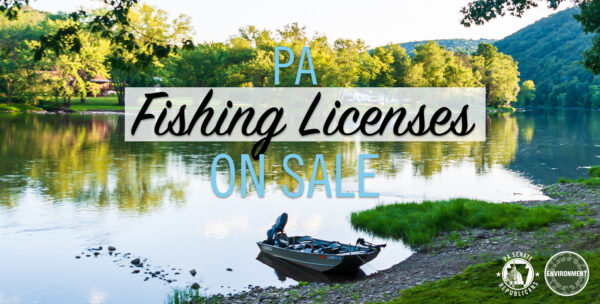 Pennsylvania anglers can purchase their 2021 fishing license from the PA Fish and Boat Commission now. The licenses are valid from the date of purchase through December 31, 2021. Multi-year options are also available in increments of three, five, and 10 years.
Licenses, permits and gift vouchers can be purchased online or by visiting retail license issuing agents.
Commercial Driver Licenses, Learning Permits Extended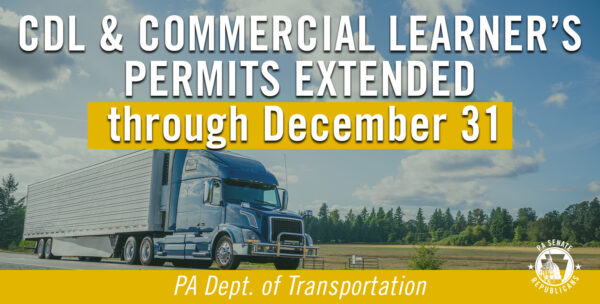 Due to disruptions created by the COVID-19 pandemic and the governor's mitigation response, PennDOT has extended the expiration dates of all commercial driver licenses and commercial learner's permits that were set to expire at the end of November until December 31.
The extension provides additional time to renew these licenses and permits as truck drivers continue to keep supply lines open and prevent supply chain disruptions.
Wishing Our Friends and Neighbors a Happy Hanukkah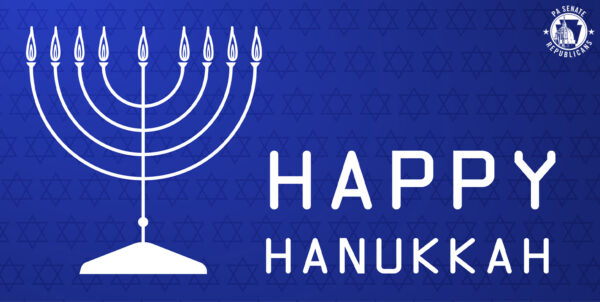 Hanukkah is one the most important holidays observed by the Jewish faith, a time for celebration with friends and neighbors, and charity for those in need. I extend my warmest wishes to all of our friends and neighbors in the Jewish community during this holy holiday.
The eight-day celebration of Hanukkah runs from December 10-17.