Thank you for subscribing to my E-newsletter. I am honored to serve the 36th Senatorial District and look forward to working with you toward building a stronger Pennsylvania. This E-newsletter serves to keep you updated on what is happening throughout  Lancaster County and what I am doing as your State Senator in Harrisburg – I hope that you find it helpful! Should you have any questions, comments, or concerns, please DO NOT reply to this email; instead, please feel free to contact me here.

If you know a veteran, please forward this issue to him or her. There are some important updates, resources and information.
In this Update:
New Federal Law Regarding Service Member Exposure to Burn Pits, Other Toxic Substances
Local Organization Focuses on Helping Veterans & Persons with Disabilities Live Fuller Lives with the Help of Service Dogs
Bill to Allow Veterans' Employment Preference for Veterans Discharged Due to Medical Disability Become Law
Honoring U.S. Merchant Marines with Memorial
Meeting with Members of the Lititz Springs VFW
VA's Digital Divide Consult Can Help Veterans Access Telehealth Services
VA Announces Improvements to Appointment Check-Ins
New Pilot Program Offers Veterans Help in Moving Their Careers Forward
New Tool Available from AARP to Help Fight Fraud Against Veterans
VA Appeals Can Now Be Filed Online
What are Vet Centers?
Who is Eligible to Receive Services at Vet Centers?
Contacting Your Local Vet Center
---
New Federal Law Regarding Service Member Exposure to Burn Pits, Other Toxic Substances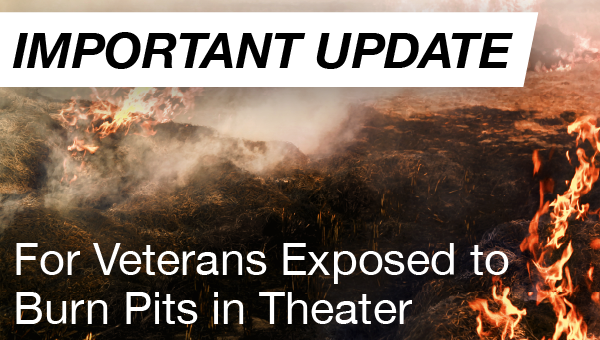 The Sergeant First Class Heath Robinson Honoring Our PACT Act of 2022 was signed into law last month to address our service members' exposure to burn pits and other toxic substances.
The act provides expanded access to health care and disability benefits for veterans harmed by certain toxic exposures, whether in the jungles of Vietnam or the mountains of Afghanistan. It will also let the Department of Veterans Affairs (VA) move more quickly and comprehensively in the future to determine if illnesses are related to military service, and it will offer critical support to survivors who were harmed by exposures, including from water contamination at Camp LeJeune.
VA operates the Airborne Hazards and Open Burn Pit Registry to help put data to work for veterans through research about potential health effects of airborne hazard exposures.
By joining the registry, you can provide information to help the VA better understand whether long-term health conditions may be related to these exposures. Even if you have not experienced any symptoms or illnesses you believe are related to exposures during military service, your participation in the registry could help VA provide better care to all veterans.
If you sign up for the registry, the VA is supposed to reach out to you rather than you having to "make your case" to the VA! This is new for the VA (even veterans with exposure to agent orange had to reach out to the VA rather than the VA reaching out to the veteran). I highly recommend that veterans sign up with the registry here.
If you need help navigating the VA bureaucracy, there is assistance available. The VA offers a VA Liaison for Healthcare program as well as Post-9/11 Transition Case Management; the American Legion offers Accredited American Legion service officers who are specially trained to provide expert assistance, free of charge, to veterans and their families; and the VFW offers service officers as well.
This new law makes good on our sacred obligation to care for veterans, their families, caregivers, and survivors.
Local Organization Focuses on Helping Veterans & Persons with Disabilities Live Fuller Lives with the Help of Service Dogs
I recently had the opportunity to tour the Lancaster location of United Disabilities Services (UDS), a non-profit organization with more than 55 years of experience developing a wide variety of services and programs that improve the quality of life and expand boundaries for people with disabilities. They offer the most comprehensive and wide-ranging services available to support people who are living with disabilities, who are aging, or who are recovering from an injury.
The UDS team works reliably and tirelessly to ensure UDS participants and their loved ones can live their best lives. UDS service dogs are trained from pups for over two years by a team of dedicated volunteers and professionals. Then, they're partnered with people who have a mobility or other disability to help them live fuller lives.
UDS is starting a new service dog pilot program specific to veterans in the near future. If you are a veteran or know a veteran who could potentially benefit from a service dog, please contact UDS's Lancaster location (2270 Erin Ct, Lancaster, PA 17601) at (888) 837-4235 for more details about the program.
Bill to Allow Veterans' Employment Preference for Veterans Discharged Due to Medical Disability Becomes Law
Pennsylvania's Veterans' Preference Law provides a hiring preference to qualified veterans seeking public employment in line with the skills and experience they obtained during their military training.
Under the current interpretation of state law, a veteran who served honorably but was discharged with a disability before completing their initial military obligation would not be eligible for veterans' preference. This unfortunately punishes veterans who cannot meet the commitment through no fault of their own.
Senate Bill 849, which passed the General Assembly unanimously and was signed by the governor last week, will add an exemption for those with a disability discharge and would ensure that veterans with medical discharges are receiving the preference when seeking careers with the Commonwealth.
Honoring U.S. Merchant Marines with Memorial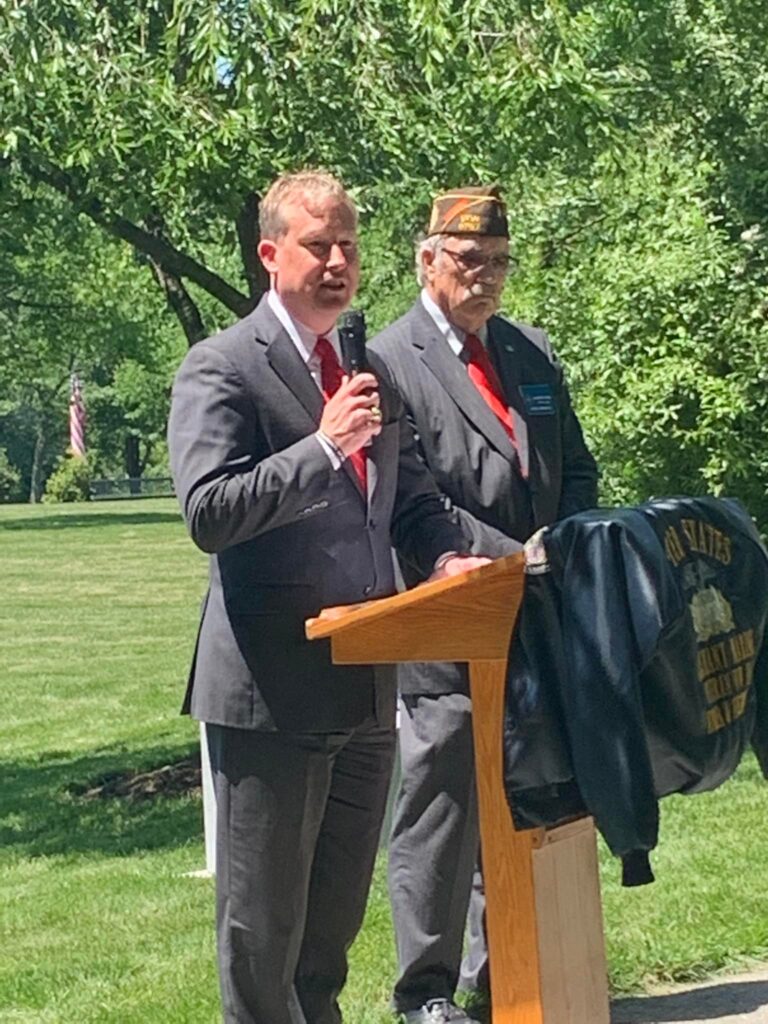 It was an honor to speak at the dedication of the new Merchant Marines Memorial at Indiantown Gap National Cemetery. I was pleased to join the Lancaster Chapter of the Vietnam Veterans of America, The Daughters of the American Revolution, Lititz Springs VFW Post 1463, Blankets of Honor, and many others to honor our Merchant Mariners.
Special thanks to Vietnam Veteran Clyde Snyder and Lititz Springs VFW Post 1463 for sponsoring the memorial.
Meeting with Members of the Lititz Springs VFW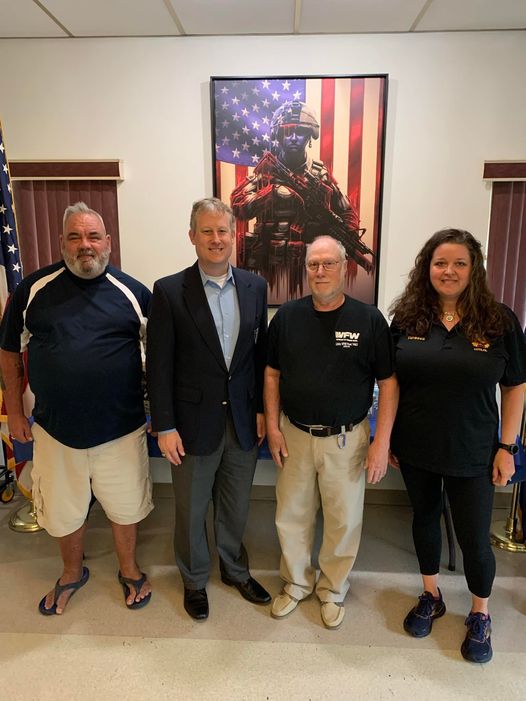 I recently stopped by Lititz Springs VFW Post 1463 and met with Commander Bruce McCullough, Senior Vice Commander Karl Spidel, and Manager Vanessa Sylte. I appreciate their dedication to providing support and services to our incredible veterans.
VA's Digital Divide Consult Can Help Veterans Access Telehealth Services
Efforts continue to expand access to broadband internet, but a digital divide still exists in many areas of the state, including in many of our rural communities in the 36th Senatorial District.
The divide prevents many veterans from being able to access telehealth care.
However, the U.S Department of Veteran Affairs (VA) offers the Digital Divide Consult, in which a veteran's VA provider can refer them to a VA social worker. The social worker can determine whether the veteran is eligible for programs that can help them get the internet service or technology needed for VA telehealth.
VA telehealth services enable veterans to meet with their trusted VA provider anytime, anywhere, without sacrificing the personalized care they expect from the VA. According to the VA, more and more veterans have turned to telehealth to save time while still benefiting from face-to-face interaction with their providers. Nationally, the VA says it provides more than 40,000 video telehealth visits into veterans' homes on a typical weekday – that's more than the number of visits provided by the VA during an entire month prior to COVID.
A Digital Divide consultation with a VA social worker can determine if a veteran is eligible for the following programs:
To get started with the Digital Divide Consult, veterans should talk with their VA provider. More information can be found on the Digital Divide Consult page.
VA Announces Improvement to Appointment Check-Ins
By the end of August, the VA says some new options will be available for veterans checking in for their in-person VA appointments.
The change has already started, but all VA facilities will, by the end of August, allow veterans to start their appointment check-in process up to seven days before the appointment and check in at the VA clinic using their smartphone on the day of their appointment.
The VA says the changes were prompted by extensive feedback from veterans and caregivers about how the checking-in process can be made better, especially for those who use assistive technologies to access their benefits online.
New Pilot Program Offers Veterans Help in Moving Their Careers Forward
Hundreds of thousands of veterans are unemployed nationally, according to U.S. Department of Labor statistics, and leaving military service can present veterans, including those currently serving in the National Guard or military reserves, both opportunities and challenges when determining what type of career is the best choice for them.
The Department of Labor Veterans' Employment and Training Service recently started a new pilot program to help veterans and their spouses take control of their careers.
The Off-Base Transition Training (OBTT) pilot program consists of 10 two-hour, no-cost workshops designed to help meet veteran employment goals and give participants an advantage in the vast workforce landscape.
In Pennsylvania, OBTT workshops are available in person in Philadelphia and Pittsburgh, or virtually.
Click here to explore and register for OBTT in-person or virtual workshops online.
New Tool Available from AARP to Help Fight Fraud Against Veterans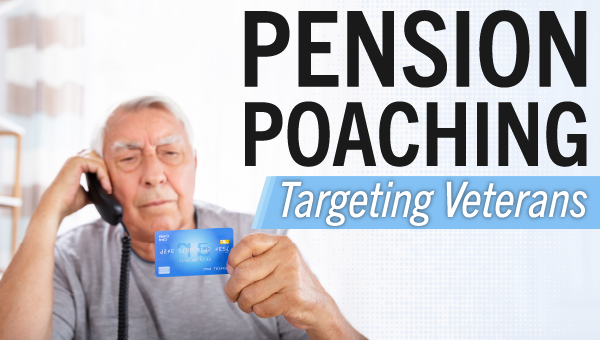 Online fraud and fraud attacks against the military community are soaring, with a survey conducted by the American Association of Retired Persons (AARP) last year finding 33% of active-duty military members and veterans lost money to fraud.
The 2021 Consumer Sentinel Network Data Book published by the Federal Trade Commission (FTC) indicated a 69% jump compared to the previous year, and that reported fraud resulted in $267 million in financial losses.
To help combat such fraud, the AARP recently launched its Veterans Fraud Center, a new education and resource hub for veterans, service members, and their families, offering free information on the latest scams targeting the military community, tips for spotting other types of consumer fraud, and specially tailored resources to help protect veterans and military families.
Pension poaching is a growing problem jeopardizing VA benefits. AARP has produced a YouTube video offering tips to spot a pension poaching scam.
VA Appeals Can Now be Filed Online
The backlog on VA claims has been declining a bit in recent months but remains high and roughly double what it was at the end of 2019 prior to COVID.
For those claims that have been decided, if a veteran disagrees with the decision, they can now file their appeal with the Board of Veterans' Appeals online. To do an online filing of an appeal, you must have a VA.gov account. The request process can be started here.
In addition to filing an appeal online, veterans who selected a hearing can have those hearings held online. There is no need to report in person to a local VA office – all you need is a Wi-Fi connection.
Additional information about virtual tele-hearings can be found here.
What are Vet Centers?

VA vet centers provide free and confidential readjustment counseling for war-zone veterans and their families, from World War II to the current Global War on Terror.
Vet centers are small, non-medical, counseling centers conveniently located in our region. They're staffed by highly trained counselors and team members dedicated to seeing you through the challenges that come with managing life during and after the military.
Our region is served by the Lancaster Vet Center, which is one of 12 vet centers in Pennsylvania and more than 300 across the country. Whether you come in for one-on-one counseling or to participate in a group session, at vet centers you can form social connections, try new things, and build a support system with people who understand you and want to help you succeed.
Who is Eligible to Receive Services at Vet Centers?
Vet center services are available to veterans at no cost, regardless of discharge character, and without the need to be enrolled in VA health care or having a service-connected disability. If you are a veteran or service member, including members of the National Guard and Reserve, you can access vet center services if you:
Served on active military duty in any combat theater or area of hostility.
Experienced military sexual trauma (regardless of gender or service era).
Provided mortuary services or direct emergent medical care to treat the casualties of war while serving on active military duty.
Performed as a member of an unmanned aerial vehicle crew that provided direct support to operations in a combat theater or area of hostility.
Accessed care at a Vet Center prior to Jan. 2, 2013 as a Vietnam-era veteran.
Served on active military duty in response to a national emergency or major disaster declared by the president, or under orders of the governor or chief executive of a state in response to a disaster or civil disorder in that state.
Are a current or former member of the Coast Guard who participated in a drug interdiction operation, regardless of the location.
Contacting Your Local Vet Center
Even if you are unsure if you meet the criteria to receive services from a vet center, please contact a center.
Center services are also available to family members when their participation would support the growth and goals of the veteran or active-duty service member. If you consider them family, so does your local center. Bereavement services are also available to family members of veterans who were receiving vet center services at the time of the veteran's death, and to the families of service members who died while serving on active duty.
The Lancaster Vet Center, located at 1817 Olde Homestead Lane, Suite 207, Lancaster, PA 17601, can be contacted at 717-283-0735 or toll free 24/7 at 1-877-WAR-VETS (927-8387).
The other vet center locations in Pennsylvania are:
Bucks County Vet Center, 2 Canals End Road, Suite 201B, Bristol, PA 19007, 215-823-4590
DuBois Vet Center, 100 Meadow Lane, Suite 8, DuBois, PA 15801, 814-372-2095
Erie Vet Center, 240 West 11th Street, Suite 105, Erie, PA 16501, 814-453-7955
Harrisburg Vet Center, 1500 N. Second Street, Harrisburg, PA 17102, 717-782-3954
Norristown Vet Center, 320 East Johnson Highway, Suite 201, Norristown, PA 19401, 215-823-5245
City Center Philadelphia Vet Center, 801 Arch Street, Suite 502, Philadelphia, PA 19107, 215-627-0238
Northeast Philadelphia Vet Center, 101 East Olney Avenue, Philadelphia, PA 19120, 215-924-4670
Pittsburgh Vet Center, 2500 Baldwick Road, Suite 15, Pittsburgh, PA 15205, 412-920-1765
Scranton Vet Center, 1002 Pittston Avenue, Scranton, PA 18505, 570-344-2676
White Oak Vet Center, 2001 Lincoln Way, Suite 280, White Oak, PA 15131, 412-678-7704
Williamsport Vet Center, 49 East Fourth Street, Suite 104, Williamsport, PA 17701, 570-327-5281
For more information, please visit www.vetcenter.va.gov.