If you know a veteran, please forward this issue to him or her as it provides important updates, resources, and information.
In this Update:
Celebrating 75 Years of Helping Make Home Modifications for Seriously Disabled Veterans
Happy 100th Birthday to 36th District Veteran
Post-9/11 Combat Veterans: Don't Miss This Special Health Care Enrollment Period
Camp Lejeune Water Contamination Health Issues
theSITREP: Benefit Payment Methods are Changing for Some Veterans and Dependents
Veterans Can Now File Supplemental Claims Online
What are Vet Centers?
Who is Eligible to Receive Services at Vet Centers?
Contacting Your Local Vet Center
---
Celebrating 75 Years of Helping Make Home Modifications for Seriously Disabled Veterans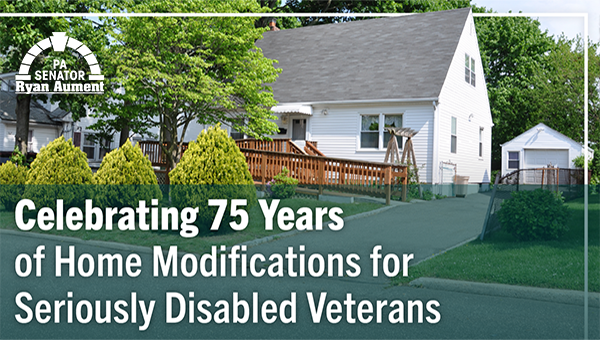 The U.S. Department of Veteran Affairs (VA) recently celebrated the 75th anniversary of the Specially Adapted Housing (SAH) Program, which, since its creation in 1948, has provided home adaptation grants to service members and veterans with qualifying, serious service-connected disabilities through multiple eras of military service.
SAH grants provide important financial support for home modifications that address the unique needs of veterans and service members. When the program first started, adaptation assistance was a one-time grant limited to $10,000, which covered up to 50% of the housing unit, land, and remodeling costs to the veteran.
Over time, the grant amount has grown, with annual increases calculated using the Turner building cost index. Additionally, instead of being a one-time use program, eligible veterans can use the program up to six different times during their lifetime. Depending on the adaptations needed, you can use as much or as little of your grant as you need. If you don't use the full amount, you can use more money from the grant in future years. The VA adjusts the total maximum amount each year based on the cost of construction. Grant recipients may receive up to the current total maximum amount for the last year they used the grant.
You can find information about both the SAH and Special Home Adaptation grant programs here.
Happy 100th Birthday to 36th District Veterans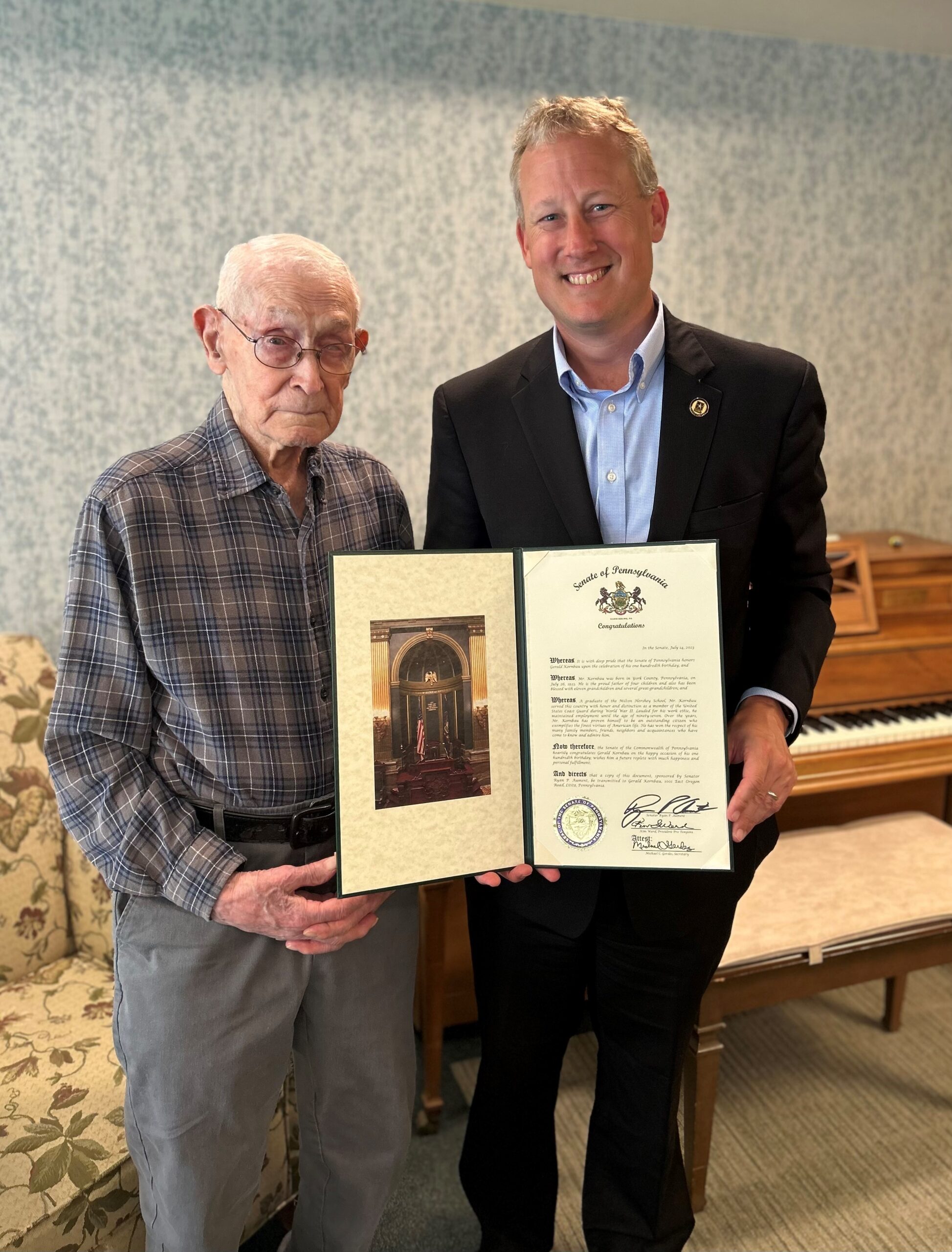 Gerald Kornbau of Lititz recently turned 100. He graduated from Milton Hershey School and served our country as a member of the United States Coast Guard during World War II. Impressively, he was employed until he was 97.
He has four children, 11 grandchildren, and several great-grandchildren. Happy 100th birthday, Gerald!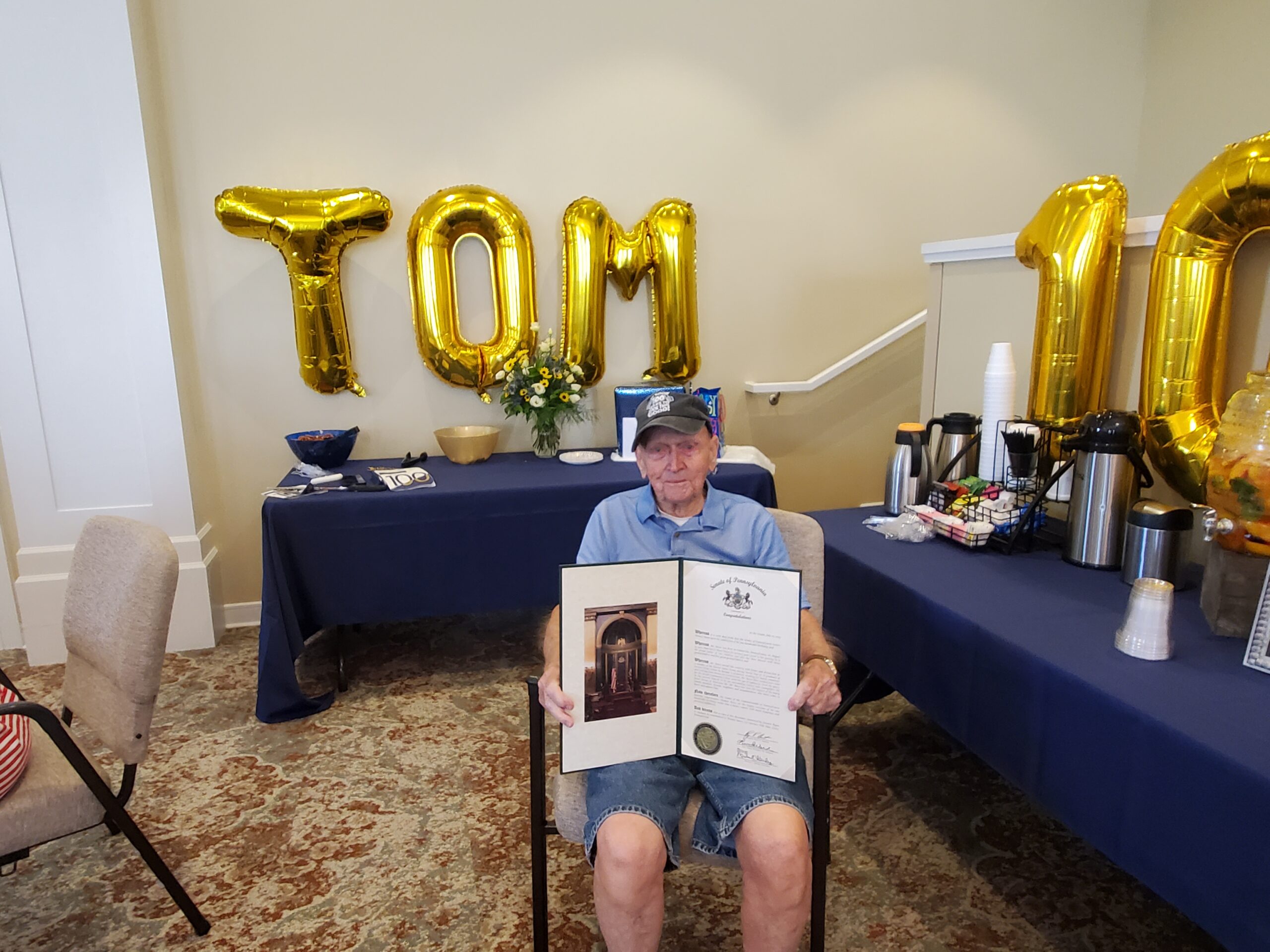 Happy belated 100th birthday to World War II veteran and Lititz resident, Tom Reese. A graduate of Stevens Trade School, Tom became a carpenter. He worked for many companies and retired from Penncrest Construction. He then worked part time for the Jewish Community Center until he was 86. Best wishes to Tom!
Post-9/11 Combat Veterans: Don't Miss This Special Health Care Enrollment Period
You may already know the PACT Act expands health care eligibility for many veterans. Post-9/11 veterans may be eligible for expanded benefits.
A one-year special health care enrollment period for post-9/11 combat veterans began on Oct. 1, 2022.
Post-9/11 veterans discharged or released on or after Oct. 1, 2013, are not subject to the special enrollment period but can enroll within 10 years of their separation or discharge date. You can review more eligibility requirements on VA.gov.
The VA is encouraging veterans to apply no matter their separation date. Your eligibility depends on your service history and other factors.
Camp Lejeune Water Contamination Health Issues
From the 1950s through the 1980s, people living or working at the U.S. Marine Corps Base Camp Lejeune, North Carolina, or Marine Corps Air Station (MCAS) New River, North Carolina, were potentially exposed to drinking water contaminated with industrial solvents, benzene, and other chemicals.
Exposure to contaminated water at Camp Lejeune has been linked to numerous medical issues and illnesses, including various types of cancer, birth defects in children, Parkinson's disease, and more.
Section 804 of the PACT Act addresses people who lived at Camp Lejeune. This law is also called the Camp Lejeune Justice Act of 2022.
Anyone who lived or worked on the base for at least 30 days between Aug. 1, 1953, and Dec. 31, 1987, at Marine Corps Base Camp Lejeune or MCAS New River, may be eligible for disability and health care benefits.
More information about eligibility for disability and health care benefits can be found here.
Learn more about the PACT Act and your VA benefits here.
theSITREP: Benefit Payment Methods are Changing for Some Veterans and Dependents
Most veterans and beneficiaries receive VA benefit payments through electronic funds transfer (EFT), also known as direct deposit. But if you're still receiving a paper check, changes are coming.
A recent episode of "theSITREP" discusses how VA payments to veterans and dependents may be changing for those receiving paper checks.
You can watch and learn, here in the YouTube episode, how to sign up for EFT payments or how to request a waiver to keep receiving a paper check.
"theSITREP" is a status report that covers a wide range of topics important to veterans and their families including VA disability, VA pensions, VA health care, VA home loans, benefits for dependents, and benefits offered by other agencies and departments, such as military retirement, social security benefits, and more. The program can be found on the U.S. Department of Veterans Affairs YouTube channel or by searching YouTube for #theSITREP.
Veterans Can Now File Supplemental Claims Online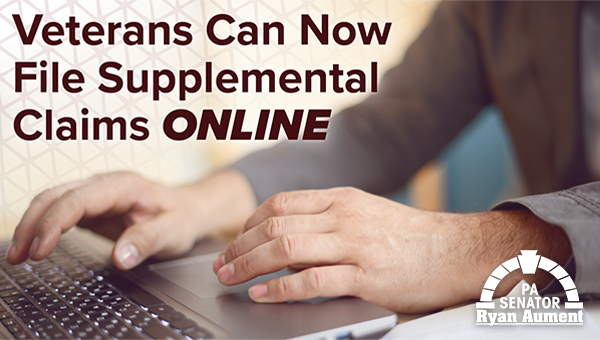 Veterans can now file supplemental claims online at VA.gov.
Filing a supplemental claim is an option for veterans who disagree with a previously denied claim decision regarding VA disability compensation or pension benefits.
The VA says this new online filing tool should speed claims decisions to veterans by saving time with supplemental claims submitted directly on VA.gov, with step-by-step, interview-style questions; allowing secure and quick uploads for additional evidence and records; and allowing veterans to save their progress on a claim so they can leave and pick up where they left off.
Additionally, veterans can use their smartphones or other mobile devices to apply online, or if they would prefer, submit supplemental claims by mail if that option better meets their needs.
To file a supplemental claim online, visit the File a Supplemental Claim webpage on VA.gov and complete the form.
What are Vet Centers?

VA vet centers provide free and confidential readjustment counseling for war-zone veterans and their families, from World War II to the current Global War on Terror.
Vet centers are small, non-medical, counseling centers conveniently located in our region. They're staffed by highly trained counselors and team members dedicated to seeing you through the challenges that come with managing life during and after the military.
Our region is served by the Lancaster Vet Center, which is one of 12 vet centers in Pennsylvania and more than 300 across the country. Whether you come in for one-on-one counseling or to participate in a group session, at vet centers you can form social connections, try new things and build a support system with people who understand you and want to help you succeed.
Who is Eligible to Receive Services at Vet Centers?
Vet center services are available to veterans at no cost, regardless of discharge character, and without the need to be enrolled in VA health care or having a service-connected disability. If you are a veteran or service member, including members of the National Guard and Reserve, you can access vet center services if you:
Served on active military duty in any combat theater or area of hostility.
Experienced military sexual trauma (regardless of gender or service era).
Provided mortuary services or direct emergent medical care to treat the casualties of war while serving on active military duty.
Performed as a member of an unmanned aerial vehicle crew that provided direct support to operations in a combat theater or area of hostility.
Accessed care at a Vet Center prior to Jan. 2, 2013 as a Vietnam-era veteran.
Served on active military duty in response to a national emergency or major disaster declared by the president, or under orders of the governor or chief executive of a state in response to a disaster or civil disorder in that state.
Are a current or former member of the Coast Guard who participated in a drug interdiction operation, regardless of the location.
Contacting Your Local Vet Center
Even if you are unsure if you meet the criteria to receive services from a vet center, please contact a center.
Center services are also available to family members when their participation would support the growth and goals of the veteran or active-duty service member. If you consider them family, so does your local center. Bereavement services are also available to family members of veterans who were receiving vet center services at the time of the veteran's death, and to the families of service members who died while serving on active duty.
The Lancaster Vet Center, located at 1817 Olde Homestead Lane, Suite 207, Lancaster, PA 17601, can be contacted at 717-283-0735 or toll free 24/7 at 1-877-WAR-VETS (927-8387).
The other vet center locations in Pennsylvania are:
Bucks County Vet Center, 2 Canals End Road, Suite 201B, Bristol, PA 19007, 215-823-4590
DuBois Vet Center, 100 Meadow Lane, Suite 8, DuBois, PA 15801, 814-372-2095
Erie Vet Center, 240 West 11th Street, Suite 105, Erie, PA 16501, 814-453-7955
Harrisburg Vet Center, 1500 N. Second Street, Harrisburg, PA 17102, 717-782-3954
Norristown Vet Center, 320 East Johnson Highway, Suite 201, Norristown, PA 19401, 215-823-5245
City Center Philadelphia Vet Center, 801 Arch Street, Suite 502, Philadelphia, PA 19107, 215-627-0238
Northeast Philadelphia Vet Center, 101 East Olney Avenue, Philadelphia, PA 19120, 215-924-4670
Pittsburgh Vet Center, 2500 Baldwick Road, Suite 15, Pittsburgh, PA 15205, 412-920-1765
Scranton Vet Center, 1002 Pittston Avenue, Scranton, PA 18505, 570-344-2676
White Oak Vet Center, 2001 Lincoln Way, Suite 280, White Oak, PA 15131, 412-678-7704
Williamsport Vet Center, 49 East Fourth Street, Suite 104, Williamsport, PA 17701, 570-327-5281
For more information, please visit www.vetcenter.va.gov.