In this Update:
Op-Ed: Voter ID Increases Voter Turnout, Strengthens Election Security, & Improves Confidence in Election Results
Decreasing the CNI Tax Rate Would Increase Wages for Working Class Families
Legislative Reapportionment Commission Update
Share Your Opinion with Senator Aument in This Week's Survey Question
2021 Legislative Roundup: Children & Families
State Government Merger to Save Taxpayer Dollars
Aument Attends Ribbon Cutting Ceremony for Adamstown's New Public Library
Preventing Child Deaths in Hot Cars
Increased Unemployment Compensation Fraud and Identity Theft
Aument to Host Telephone Town Hall on July 19
---
Op-Ed: Voter ID Increases Voter Turnout, Strengthens Election Security, & Improves Confidence in Election Results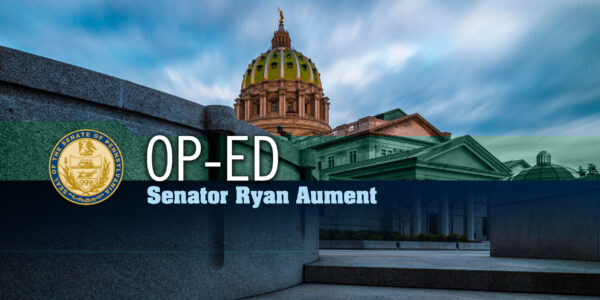 Opponents of voter ID proposals have made false claims that the legislation would reduce voter turnout; however, this is strictly not true. In some cases, the opposite has been true. For instance, when photo ID was added as a requirement in Georgia, overall turnout increased – not decreased. Georgia turnout in 2020 was 67.7% – which was above the national average.
Pennsylvanians should understand that when Democrats cry voter suppression, it is not factual; it is purely political. The evidence simply does not back up their claims.
The very limited amount of research that reaches a different conclusion is typically based on research from the states with the most stringent ID requirements. Those circumstances are not being proposed here. In short, voter ID increases voter confidence, strengthens election security, and eliminates errors all without impacting a citizen's Constitutional right to vote.
Election integrity is a top priority of mine. I believe that ensuring that every legal voter has the opportunity to cast their ballot without the fear that their vote will be disregarded, mishandled, or lost is absolutely critical. I have been and continue to be committed to making it easier to vote and harder to cheat. Voter ID is the perfect place to start.
Read my full op-ed here.
Decreasing the CNI Tax Rate Would Increase Wages for Working Class Families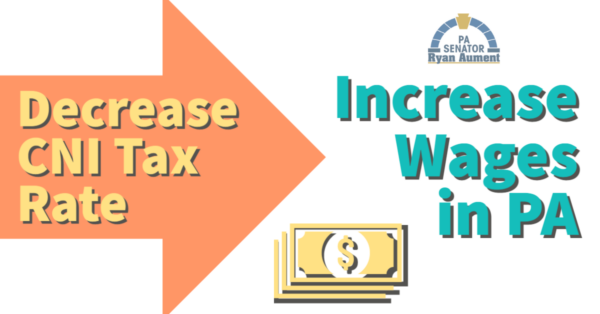 One of the most compelling arguments for lowering the Corporate Net Income (CNI) tax rate is the benefit that it would provide to Pennsylvania working families. Decades of research demonstrate that there is a direct correlation between lower CNI rates and higher wages for working class families.
Unfortunately, when politicians talk about lowering corporate taxes, many middle- and lower-class working families are skeptical that such a policy would benefit them. Though many believe that reducing corporate taxes would only help upper-class CEOs and large corporations, the data clearly shows that this is false and that individual employees and their families will also benefit greatly by enjoying higher wages.
Specifically, research shows that a one-percentage-point decrease in the top marginal CNI tax rate would lead to a meaningful increase of up to $223.35 in workers' wages in our state based on annual mean wage in Pennsylvania in 2020.
For this and many other reasons, I have proposed Senate Bill 771 which would gradually reduce the state's CNI tax rate to attract new employers and promote economic growth in the Commonwealth.
It is my hope that making Pennsylvania more economically competitive by lowering our CNI rate will benefit working class families, reverse our stagnant population growth, and ensure that Pennsylvania is an attractive place to live, work, and raise a family for generations to come.
Legislative Reapportionment Commission Update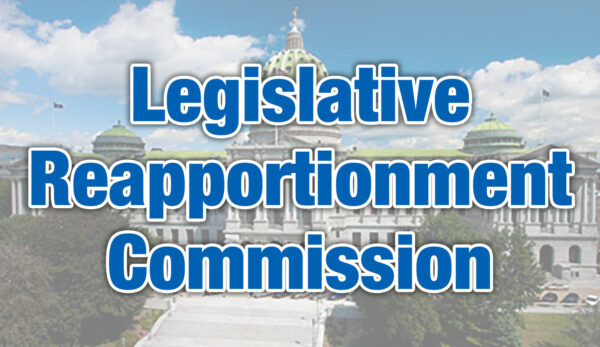 The Pennsylvania Legislative Reapportionment Commission held an administrative meeting and public hearing Tuesday to focus on staffing, census data, primary election deadlines and reapportionment criteria.
You can view the agenda and video here.
The Pennsylvania Constitution requires that the legislative districts for the state House of Representatives and Senate be redrawn each decade following the federal census. This process is mandated so that each citizen's vote ultimately carries the same weight in the ballot box. The Legislative Reapportionment Commission consists of five members: two members of both parties and a chair.
Share Your Opinion with Senator Aument in This Week's Survey Question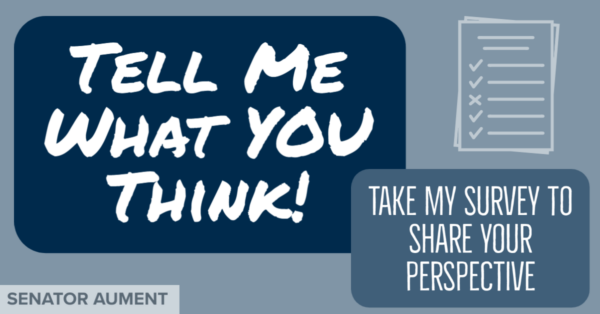 Please indicate the degree to which you agree or disagree with the following statement:
Pennsylvania's education system is doing a good job of teaching students the skills they need to obtain high-paying, family-sustaining jobs after graduation.
Strongly Agree
Agree
Neutral
Disagree
Strongly Disagree
Click here to submit your answer!
2021 Legislative Roundup: Children & Families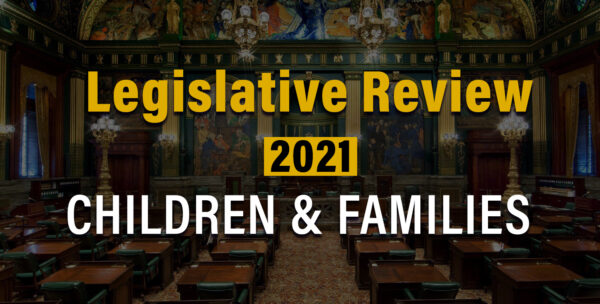 Among the key bills passed by the Senate in the first half of the year are several that strengthen protections for children and older Pennsylvanians. They include:
Act 20 of 2021 aligns the Family Caregiver Support Act with federal standards, expands the definition of "care receiver" to add a child being raised by a grandparent and an adult with a disability who is cared for by an older adult, and makes other changes to help families.
Act 42 of 2021 allows a criminal justice agency to share information relating to an allegation or instance of child abuse with a county agency or the Department of Human Services to investigate, or with a children's advocacy center to provide services to investigating agencies.
Act 48 of 2021 gives the Attorney General's office concurrent jurisdiction with county district attorneys to investigate individuals who use their position of trust to financially exploit older adults and care-dependent people.
Act 49 of 2021 targets elder abuse by making it a misdemeanor for a professional caretaker to post pictures of care-dependent individuals on social media without permission with the intent to ridicule or demean.
Act 53 of 2021 increases the penalties for those convicted of child pornography and permits the Pennsylvania Commission on Sentencing to increase penalties for those convicted of the sexual abuse of children when the victim is known to the defendant.
A complete list of notable bills passed by the Senate this year can be found here.
State Government Merger to Save Taxpayer Dollars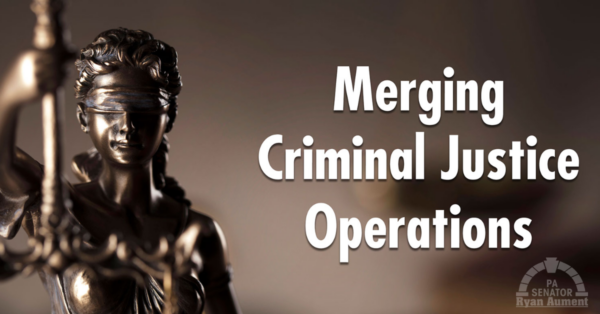 Legislation merging the Pennsylvania Department of Corrections and the Board of Probation and Parole was recently signed into law.
The new law transfers supervision of offenders and certain administrative functions from the Board to the Department, but preserves parole decision–making responsibilities within the Board. The merger is projected to save taxpayers $29.6 million through 2023 when fully implemented by eliminating redundant procedures and sharing of resources and personnel.
Aument Attends Ribbon Cutting Ceremony for Adamstown's New Public Library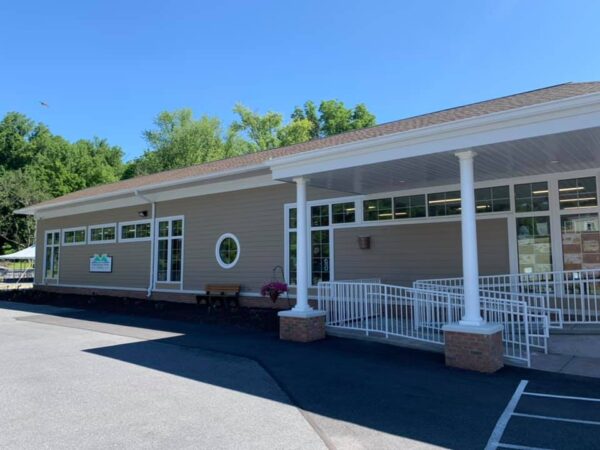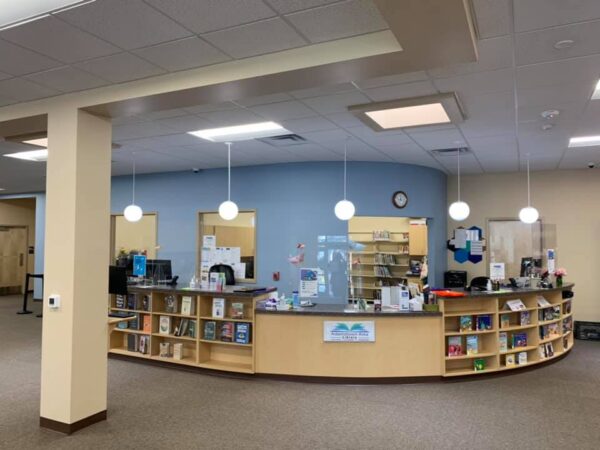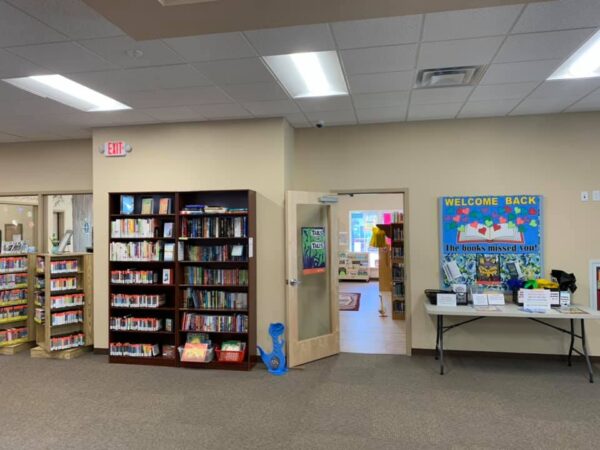 Last month, I was honored to celebrate the dedication of Adamstown's beautiful new public library. Located at 110 W Main Street in Adamstown, the new and improved Adamstown Area Library offers state-of-the-art technology, an expanded children's learning center, more parking space and more content including books, DVDs, and computers, and comfortable reading areas for visitors to enjoy.
Learn more about the Adamstown Area Library here.
Aument to Host Telephone Town Hall on July 19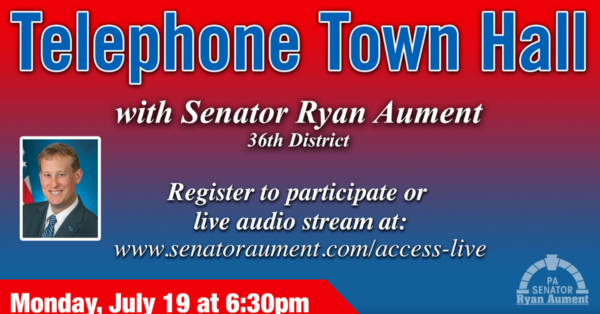 I will answer questions and listen to feedback from community residents during a live telephone town hall on Monday, July 19 from 6:30-7:30 p.m.
Community residents can register to participate in the tele-town hall by visiting www.senatoraument.com/access-live. This link can also be used for audio streaming, which will be available immediately prior to the event. Additionally, a link to the event page is available on my website at www.senatoraument.com.
The tele-town hall offers a convenient format that encourages community residents to participate in a discussion while practicing social distancing to prevent the further spread of COVID-19. Participants can ask questions or simply remain on the line to listen to the discussion.
I will also ask participants to respond to a few poll questions throughout the telephone town hall on issues such as tax cuts, mail-in ballots, and voter ID. Your feedback is important to me, and as such, I look forward to hearing from you live next Monday!
Preventing Child Deaths in Hot Cars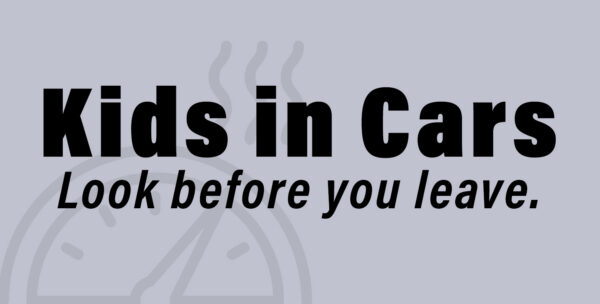 Since 1998, an average of one child per year has died in Pennsylvania after being left in a hot car. All of these tragic deaths could have been prevented.
More than half of pediatric vehicular heat stroke deaths involve children under 2 years of age. By far, the leading circumstance is children forgotten by a caregiver.
The National Safety Council advises parents and caregivers to stick to a routine and avoid distractions to reduce the risk of forgetting a child. Place a purse, briefcase or even a left shoe in the back seat to force you to take one last look before walking away. Keep car doors locked so children cannot gain access and teach them that cars are not play areas. And look in the back seat before you leave and lock your vehicle.
Increased Unemployment Compensation Fraud and Identity Theft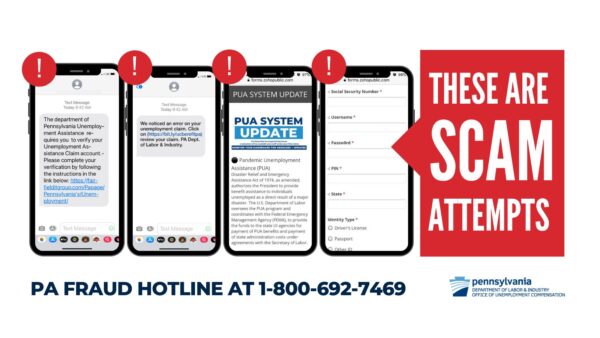 According to the Department of Labor and Industry, unemployment phishing attempts are at an all-time high. Before clicking on any link or responding to suspicious messages, claimants are asked to review all verified UC contact methods.
What to do when someone files for unemployment benefits using your identity:
File a form online:
File via phone:

Call the PA Fraud Hotline at 800-692-7469.

File a report with police:

Contact police in the municipality you resided in at the time the unemployment fraud occurred/benefits in question were paid. A copy of the filed police report must also be provided to the Office of Unemployment Compensation.

Start a recovery plan with the Federal Trade Commission at identitytheft.gov.