LANDISVILLE, PA – The Senate Majority Policy Committee today held the second in a series of hearings on crime and public safety, gathering at the East Hempfield Township Building in Lancaster County to get input from local police chiefs, prosecutors, human trafficking victim advocates, and key community groups.
Pennsylvania has the highest violent crime rate of any state in the Northeast, according to FBI data. Between 2019 and 2020, no other state reported a greater year-over-year increase in violence. Driven by spikes in aggravated assault and homicide, Pennsylvania's violent crime rate climbed 27.1% from 2019 to 2020.
"Across the Commonwealth, Pennsylvanians are experiencing increased crime in their communities and it's having an effect on local economies," said Sen. Scavello (R-40) who chairs the committee. "We learned in our first hearing, Pennsylvania has strong laws on the books to fight crime, however communities that embrace soft on crime approaches or ignore the rule of law are essentially disassembling our criminal justice system resulting in increased costs for our communities both economically and socially."
"Many Lancaster County residents have expressed to me that they are deeply concerned about the rise of violent crime in their communities, and the testimony today from law enforcement officials across the county confirms that this trend is very real and should be taken seriously," said Sen. Ryan Aument (R-36). "As elected officials, we have a duty to our constituents to respond to these concerns by advancing policies that support and empower law enforcement to do their jobs and ensure residents feel safe in their own communities."
Chief David Steffen of the Northern Lancaster County Regional Police Department told the committee that the national media's consistent coverage of emotional, high-profile, and statistically rare cases of officer-involved shootings portrayed as the norm has created a foundation of mistrust in law enforcement.
Chief Jack Brommer of the Columbia Borough Police Department told the committee that recruiting new officers to the force has become increasingly difficult, particularly as anti-police rhetoric rises.
Heather Adams, Lancaster County District Attorney, explained to the committee why Lancaster County is a hotspot for human trafficking and how her office has formed the Lancaster County District Attorney's Human Trafficking Task Force to address this alarming trend.
Janelle Esbenshade, Interim Executive Director of NorthStar Initiative, a group that supports women who are survivors of domestic sex trafficking, told the committee how communities impacted by human trafficking typically see a rise in other crimes as well.
A top priority for Senate Republicans is to ensure Pennsylvanians feel safe in the towns, cities, and communities they call home. These hearings will help legislators better understand the trends in crime from law enforcement and key stakeholders, and better align the Commonwealth's economic goals with community objectives throughout the state.
The date and location of the committee's next hearing on crime and public safety will be announced in the near future.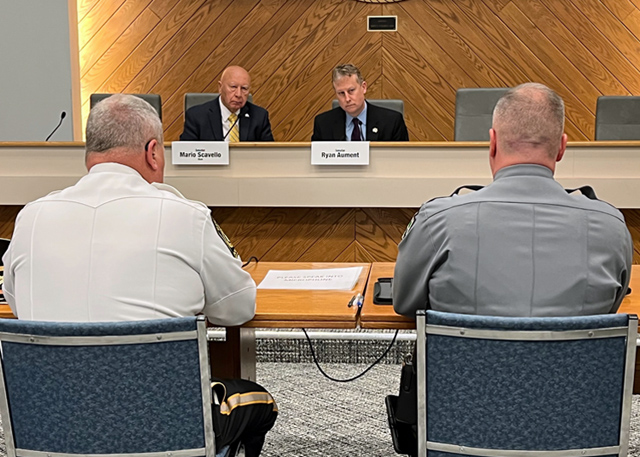 CONTACTS:
Erica Clayton Wright (Senator Kim Ward) ewright@pasen.gov
Christine Zubeck (Senator Scavello) czubeck@pasen.gov
Stephanie Applegate (Senator Aument) sapplegate@pasen.gov