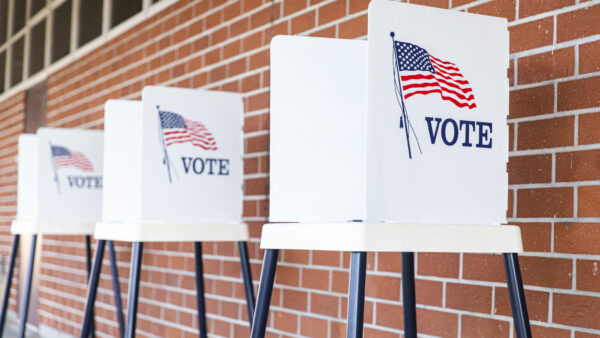 Senate action comes as 74% of Pennsylvanians support requiring voter ID
(HARRISBURG) – The Pennsylvania Senate today passed a proposed omnibus constitutional amendment that would, among other things, amend our state's constitution to require voter identification in Pennsylvania, according to Sen. Ryan Aument (R-36). 35 other states require some form of voter ID.
"I have consistently supported and voted in favor of legislation requiring voter ID throughout my time in the General Assembly," said Aument. "Voter ID increases voter confidence, strengthens election security, and eliminates errors all without impacting a citizen's Constitutional right to vote – AND it's supported by the vast majority of Pennsylvanians and Americans."
Forms of photo identification currently approved by the Pennsylvania Department of State include:
Pennsylvania driver's license or PennDOT ID card
ID issued by any Commonwealth agency
ID issued by the U.S. Government
U.S. passport
U.S. Armed Forces ID
Student ID
Employee ID
Voters without a photo ID, currently, can use a non-photo identification that includes name and address such as:
Confirmation issued by the County Voter Registration Office
Non-photo ID issued by the Commonwealth
Non-photo ID issued by the U.S. Government
Firearm permit
Current utility bill
Current bank statement
Current paycheck
Government check
In addition to these fifteen ID options, the General Assembly also voted in 2020 to remove financial barriers that prevent our most vulnerable Pennsylvanians from obtaining a photo ID by allowing homeless individuals to qualify for a free identification card. This law went into effect in 2021.
"We must ensure that every legal voter has the opportunity to cast their ballot without the fear that their vote will be disregarded, mishandled, or lost is absolutely critical," said Aument. "I have been and continue to be committed to making it easier to vote and harder to cheat, and amending our constitution to require voter ID is a strong step towards that goal."
Constitutional amendments are required to pass both chambers of the General Assembly in two consecutive legislative sessions and then be approved by Pennsylvania voters in a ballot referendum. The language pertaining to voter ID passed both chambers during the 2021-22 legislative session.
In addition to voter ID, there are two other proposed constitutional amendments that passed in Senate Bill 1 today that would:
Prevent the governor from vetoing the disapproval of a regulation as voted by the General Assembly, and
Open up a two-year window for sexual abuse victims to sue their abusers.
"I was proud to vote in favor of sending these three meaningful constitutional amendments to Pennsylvania voters, giving them the final say and placing the power back in their hands where it rightfully belongs," said Aument.
Should these amendments pass the House of Representatives again before the expiration of the 2023-24 legislative session, it will ultimately be up to the voters to decide if they are in favor of amending the state constitution in these ways. Additionally, should these questions appear before voters on the ballot, they will appear as separate questions, allowing voters to decide each issue individually.
CONTACT: Stephanie Applegate