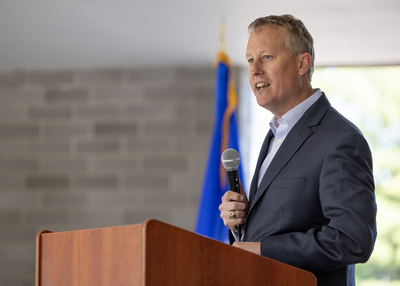 Work to overhaul education system begins
HARRISBURG – To begin the process of creating a long-term plan to align the education system with job demands, the Pennsylvania Commission on Education & Economic Competitiveness (CEEC) held its first meeting today, according to Sen. Ryan Aument (R-36), who serves as a co-chair alongside Rep. Peter Schweyer (D-134).
"My hope for the commission is that we learn from other successful systems around the world and focus on taking a holistic approach to education that adequately prepares students for life after graduation," said Aument.
The current education system is antiquated and unable to adequately meet the needs of our students or the state's workforce. To address this problem, the members of the CEEC will:
Create a shared, bipartisan vision for 21st century education that will prepare all students to compete in a global economy,
Establish policies to give all school districts the support and flexibility they need to build world-class education systems, and
Recommend a legislative action plan to achieve these shared goals.
The commission is bipartisan and includes members of the House of Representatives, Senate, and Governor Shapiro's administration. Additionally, a subcommittee will inform the work of the commission.
Aument and Rep. Kyle Mullins (D-112) were appointed to serve as co-chairs on the Subcommittee on Education Planning, which is comprised of 40 different stakeholder groups from education, business, labor, and government, and will be responsible for the bulk of the commission's work. The subcommittee will meet regularly to discuss issues ranging from early childhood education to retooling displaced workers to community-education partnerships.
"I am eager to work with the various stakeholder groups and my colleagues across the aisle to think big and come up with innovate ideas to reshape our education system in a way that benefits students, teachers, parents, and employers," said Aument.
More information about the Commission on Education & Economic Competitiveness can be found on its website: https://ceec.pasenategop.com/
CONTACT: Stephanie Applegate