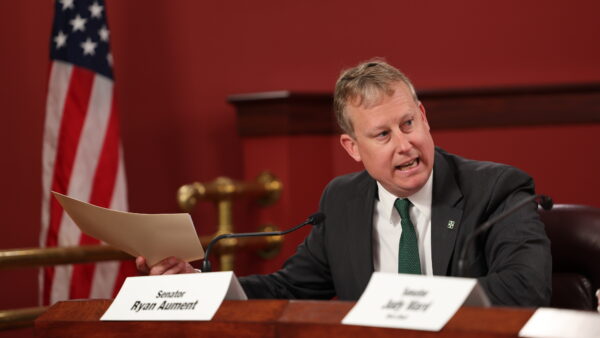 Sen. Aument's Senate Bill 7 will receive a hearing to review the graphic content available in PA schools & explore solutions for outraged parents
HARRISBURG – In his ongoing effort to provide parental control of student exposure to sexually explicit content in schools, Sen. Ryan Aument (R-36) announced today that the Senate Education Committee plans to hold a hearing on his legislation to make parents aware of the mature content their child may be provided in school and give them the ability to deny their own child access to such content.
"Extremely graphic, sexually explicit content IS available to underaged children in Pennsylvania schools without the knowledge or consent of their parents – that is a fact," said Aument. "Parents are rightfully outraged that their children would have access to such mature content without any notification or recourse. Parents have a right to know about this explicit content AND a right to shield their own children from it."
Pennsylvanians over the age of 18 can view examples of the sexually explicit content in question on a webpage Sen. Aument launched in 2022 to help educate the public on the extreme nature of these books. [Examples of Sexually Explicit Content in PA Schools]
"We aren't talking about To Kill A Mockingbird or Romeo & Juliet – we're talking about graphic images of children performing sex acts on each other," Aument continued. "This is content that newspapers have refused to print, TV stations have refused to air, school boards have banned during meetings, and law enforcement has forcibly removed from posters in public settings – it is absolutely NOT suitable for children without parental consent."
To empower parents and give them the final say in what content their own children can access in school libraries and curriculum, Aument introduced Senate Bill 7, which would require schools to:
Identify sexually explicit content in school curriculum, materials, and books.
Create an opt-in policy that would:

Notify parents of the sexually explicit content by including a list of the book titles on the form.
Give parents the opportunity to review the materials.
Require parents to give direct consent for their children to be provided or have access to sexually explicit content.

Provide the child with non-explicit alternatives if their parents do not opt-in.
Importantly, Senate Bill 7 would not ban any books from any Pennsylvania school curriculum or library, but rather empower parents to control only what their own children have access to in school. Empowering parents and families is a priority of the Senate Republican Caucus.
Senator Dave Argall (R-29), the chairman of the Senate Education Committee, sunshined the hearing on Senate Bill 7 for October 17, 2023.
"My late father was a school librarian – he never could have imagined some of the sexually explicit materials that are available to very young children in elementary school libraries today," said Argall. "Our youngest students should not be exposed to this material without their parent's consent."
The Pennsylvania School Employees Association, Education Law Center, two school superintendents with experience handling these issues, and the Pennsylvania School Librarians Association were all invited to testify at the hearing.
Read more about Senate Bill 7 here. Details and updates on the hearing scheduled for October 17 can be found here.
CONTACT: Stephanie Applegate